Rebel ShivSena MLA Saipanrao Bhumare currently lodged in Guwahati has won a home in MHADA lottery concluded last week.
By Varun Singh
This news is not related to politics, but interesting real estate story because it's related to politics.
Let me tell you that MHADA last week concluded the lottery of 1204 tenements and plots in Aurangabad.
For these available homes MHADA received more than 11,000 applications.
Sandipanrao Bhumare the ShivSena MLA from Paithan currently lodged in Guwahati hotel along with the rebel MLAs was also one of the applicants.
Finally the lottery was held last week for these homes and while Bhumare is in Guwahati he has managed to win the lottery.
Here's the details of the home that Sandipanrao Bhumare won in the lottery.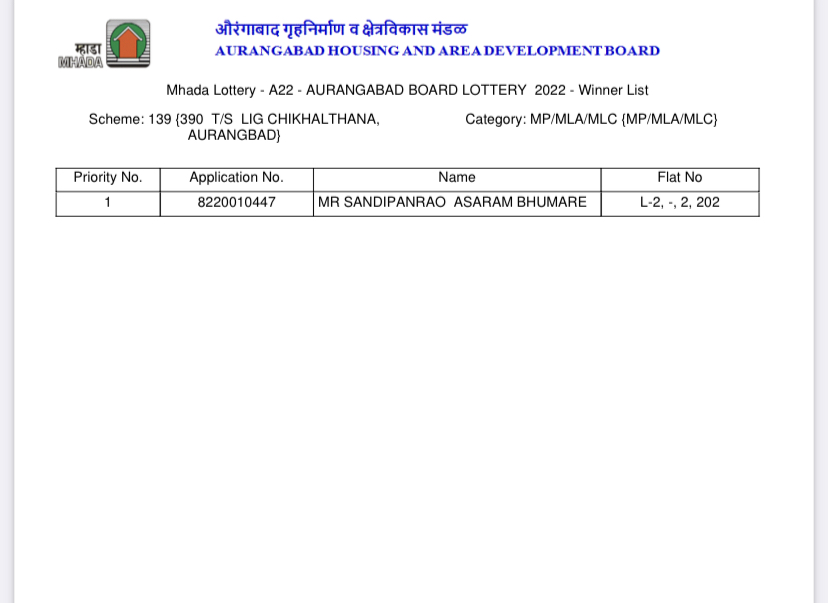 The home that he won is located in Chikhal Thane, Aurangabad and he has applied in the Lower Income Group Category. The quota in which the rebel Sena MLA won the house is the MP/MLA quota.
When contacted Bhumare over the phone, he said,"I will handover the home back to MHADA, I had just applied for the lottery and do not need this home."
Bhumare along with other 38 ShivSena rebel MLAs has decided to join the Eknath Shinde camp which wants Chief Minister Uddhav Thackeray to breakaway from the MVA Alliance.
Since Monday night Maharashtra is facing a political crisis and the ShivSena has seen a major turmoil.
With close to 39 MLAs from ShivSena siding with Eknath Shinde the Uddhav Thackeray camp is going thin every passing day.
The BJP apparently is behind the entire rebellion, however, they aren't coming out in open, though the MLAs chose both BJP state Gujarat and Assam to rebel.
The lottery news is a good news for Sanipanrao Bhumare who is currently in Guwahati let's see when he return.
Also Read: Govt changes income slabs for EWS, LIG, MIG and HIG for MHADA Lottery