If investing in real estate in Mumbai and Maharashtra then don't even think of buying your future home in these 10 projects.
By Varun Singh
Buying a house is a very serious move in the life of any individual.
Who doesn't want to own a home in Mumbai or any other part of Maharashtra, but there are some precautions that one need to take before investing in real estate.
There are thousands of projects ongoing in Mumbai and Maharashtra but of them at least don't even think of investing in these 10 projects.
The reason is very simple, their registration has been either revoked or declared ab initio void by MahaRERA.
Maharashtra Real Estate Regulatory Authority (MahaRERA) has revoked the registration of total 10 projects.
Of these 10 projects MahaRERA revoked the registration of 4 projects in the month of September, and one in November.
Of these 4 projects, one project lost its registration of September 14, the other one's registration was revoked by MahaRERA on September 24, whereas the remaining two were declared Ab Initio Void on September 28.
The most recent of which registration has been revoked happened on November 24.
While we give your details of the 10 projects, one should know why registration is important.
According to RERA a developer before selling any flat within Maharashtra has to register their project with MahaRERA.
This is to bring transparency, and accountability on the part of the developer.
The developer during registration has to mention all details of the projects he's carrying out. This even includes completion date.
If the developer fails to deliver the apartment on or before the date of completion MahaRERA has the powers to levy a fine along with interest.
The 10 projects are
-Mithanagar Archana CHS LTD. of which promoter is Dhanashree Developers
-DSK Sadaphuli of which promoter is DSKulkarni Company
-DSK Sadaphuli of which promoter is DSK Worldman Projects LTD
-Laaffaires Avenue Commercial and Laflor Residency Commercial of which promoter is SSV Realtors
-Sai Developers and Builders of which promoter is Shirsagar Yadav
-Ganeshwadi CHS LTD-SRA, of which promoter is Ashok Gupta
-Rite Civis of which promoter is Yashodanand Developers
-Hariom Villa of which promoter is Mageshkumar Shah
-Janavi Towers and Janavi Plaza of which promoters are Janavi Builders & Developers
-Mangal Smriti of which promoter is Mangal Buildhome Pvt Ltd
These are the 10 projects which lost their registration.
If you are a homebuyer and have invested then please check whether you have invested in these projects.
Home buying a lifetime experience and people invest their lifetime savings in it.
However, there are umpteen examples where homebuyers have ended up suffering because of the developers.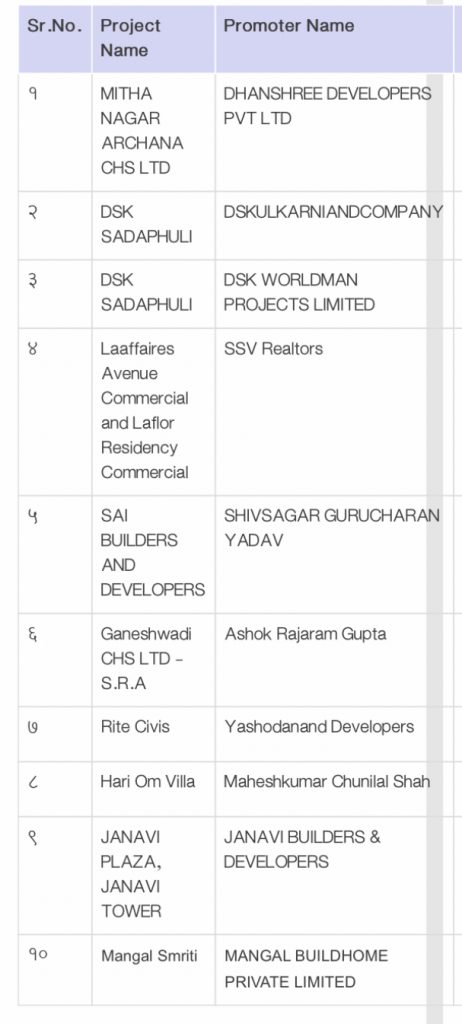 The government came out with regulations that can help homebuyers and RERA is one such.
Projects without MahaRERA registration are not allowed to sell, advertise or market in the state and these 10 projects now fall in this category.
Also Read: At Rs 1.15 lac psf, Samudra Mahal Apartments sold for Rs 42 Crore