Oberoi Realty Limited has announced that its wholly owned subsidiary Evenstar Hotels has purchased and taken possession of the Worli Hotel for Rs 1040 crore. Stamp duty of Rs 21.96 Crore paid for registering the deal on December 18.
By Varun Singh
Oberoi Realty Limited informed the Bombay Stock Exchange that its wholly owned subsidiary has purchased and taken possession of a hotel property in Worli.
The hotel property has been purchased by Evenstar Hotels Private Limited ("Evenstar"), a wholly owned subsidiary of the Company (Oberoi Realty Limited).
The deal was signed for a consideration of Rs 1040 crore. Documents accessed by SquareFeatIndia show that, a stamp duty of Rs 21.96 crore was paid on December 18.
According to documents the area purchased includes 33 storey apartment in tower A, of which built up area is 19,496.91 square meters.
The deal includes, portion of the 4 basement, portion of the ground floor, portion in the podium from 1st to 3rd floor, entire 4th to 32nd floor, portion of 33rd floor, full terrace on sixth floor, entire pocket terrace on 9th and 10th floor, 2 service lifts.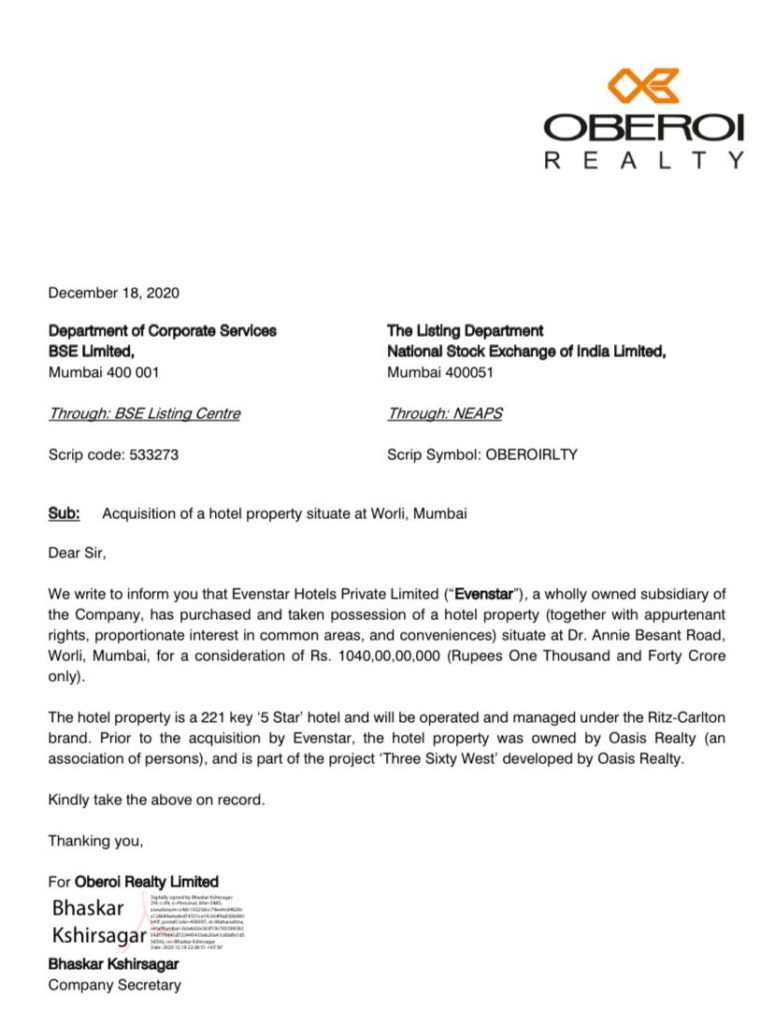 "The hotel property is a 221 key '5 Star' hotel and will be operated and managed under the Ritz-Carlton brand."

Oberoi Realty Limited To BSE
Prior to the acquisition by Evenstar, the hotel property was owned by Oasis Realty (anassociation of persons), and is part of the project 'Three Sixty West' developed by Oasis Realty.
An International Property Consultancy head aware about the deal said, "The deal is an internal transfer between partners."
A look at the documents shows that, there are several partners in Oasis Realty, one of them is Oberoi too.
The project is a high end premium project. Some of the latest deal in this project includes banker Romesh Sobti, a BJP MLA, top lawyers and other business personalities.
Also Read: Aditya Puri's Wife & Daughter Buy Flat For Rs 50 Cr