Koninika Roy who identifies herself as a Bisexual will be moving with her partner Shruti Kulkarni in the office accommodation on the day, when Mumbai's LGBT community will be walking the Pride Parade.
By Varun Singh
A girl moving with her girlfriend in an office accommodation, would have raised many eyebrows sometime ago. Surely it does even now for many. But this time its happening for real and the office has no problem with it, instead is providing better facilities even to the partner.
There was a time, in India, when people from the same sex community was being persecuted. When the draconian section 377, still existed with all its unwanted claws to snatch the basic right of love away from people who loved people of the same gender.
However, things are changing, with the reading down of section 377, India's corporate World has become more accepting, and more accommodating.
Koninika Roy, works with India Culture Lab, which is part of Godrej Group located in Vikhroli. On Sunday during a meeting comprising of Parents of children from LGBT community, members of LGBT community and even allies, Koninika announced that she's moving with Shruti her long time partner in an office accommodation.
"I had applied for an office accommodation, and I even got it, I am to move in on February 1 with my partner (Shruti), which also happens to be the day, of Pride Parade," said Koninika. Koninika a few years ago had first come out as as Lesbian to her parents and then as a Bisexual. Both her parents were standing with her when she made the announcement and they were beaming with joy.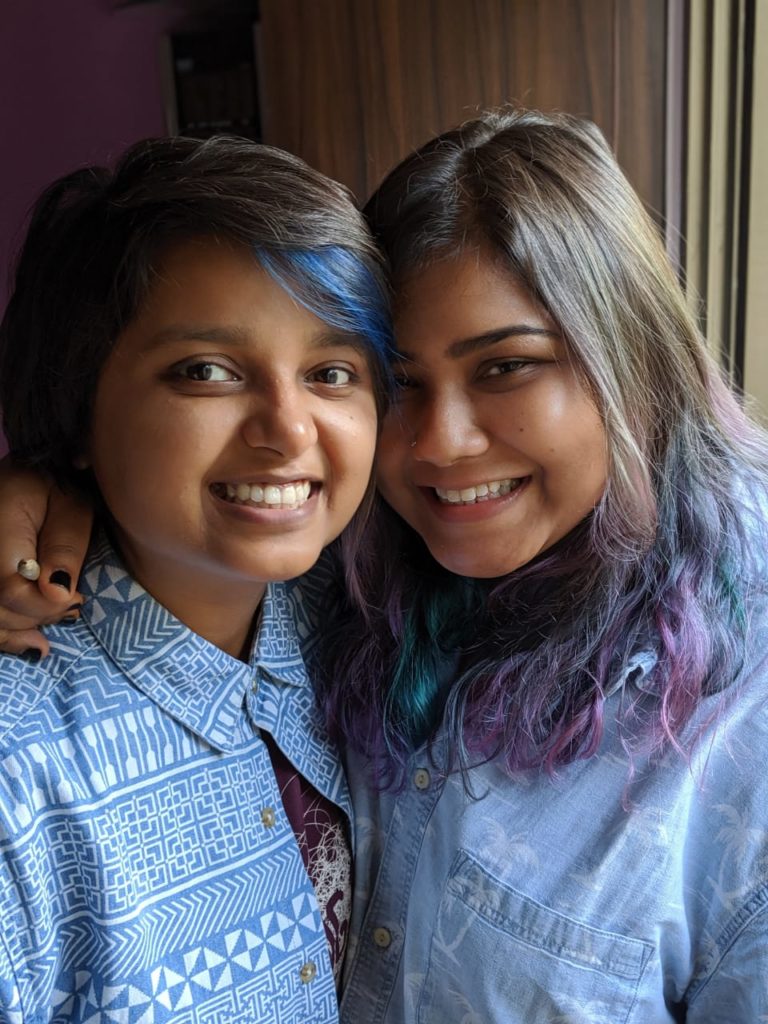 Koninika and Shruti have known each other for 10-years now. They like any other couple had their ups and down, which includes a small fights and then coming together. The decision of moving in together was a conscious decision and they have been staying on rent for quite some time now.
Koninika works with the Godrej group which operates mainly from Vikhroli and also provides accommodation to its employees. Koninika applied for official accommodation and she even was approved one in a lesser time than she was actually expecting.
After being allotted a 1BHK accommodation in Vikhroli west, Koninika had a question which she wanted to clarity on. She dialed the HR person and asked, "Can I move in with my partner in this official accommodation." Yes came the answer, she told the HR that her partner was her girlfriend Shruti and she would be moving with her. The HR told her that she even will be provided with facilities that partners are provided by the company.
Koninika's boss was also present when she spoke about moving in the office accommodation with her partner Shruti and he also was all smiles.
Things are moving, they are taking their own time, but yes they are moving in the direction, that is inclusive. The society is slowly accepting things the way they are. Corporate do play a big role when it comes to shaping the society. While for Godrej it would be a mere providing accommodation to an employee and her partner of same sex. But for India it is a big step, a step that will change perceptions.
Indian corporate have always been doing its bit for the LGBT community. For example American Express Bank has decided to extend its health insurance plan to the same-sex partners of its employees. It also provides cover for children adopted or begotten by surrogacy by such partners.
There's a long way for the LGBT community and having a shelter of your own, does make the walk a less cumbersome.