Only Muslims Allowed, advertisements pop up on property portals, while selling and renting apartments in Mumbai and nearby areas. One of the portal acted and removed the mention and is working on algorithm to tackle the issue.
By Varun Singh
When it comes to selling or renting a house in several cases the religion of the buyer does come in to play. Such cases are too many when it comes to Mumbai and nearby areas.
Recently several advertisements popped up on property portals where sellers or brokers had mentioned 'Only Muslims Allowed."
For example, an advertisement with the tag 'Only Muslims Allowed' was seen on the website of NoBroker.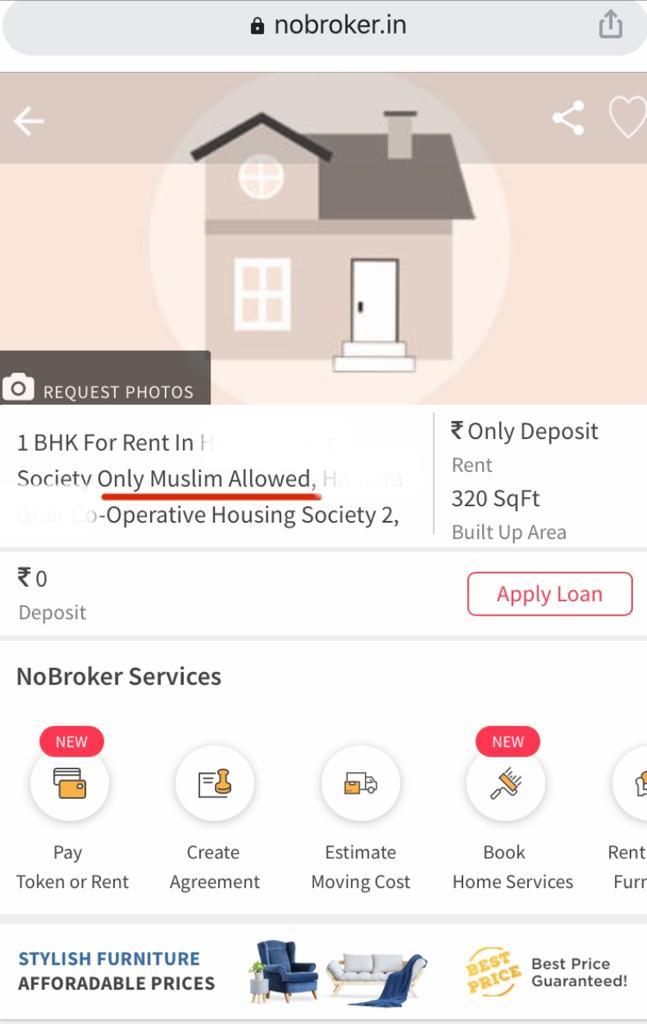 The property is located in Western Suburbs of Mumbai. When contacted NoBroker, they responded, "NoBroker doesn't allow any discrimination. The person has put this in the building name/address field. NoBroker is getting it removed. Also, they are developing algorithm to start checking address field also."
The mention was later removed from the advertisement on the website of NoBroker.
Similar advertisements popped up on the property portal of squareyards.com. On this website one could find multiple advertisements with Only Muslims Allowed.
For example this advertisement on the website is about a property available on rent in Pali Hill.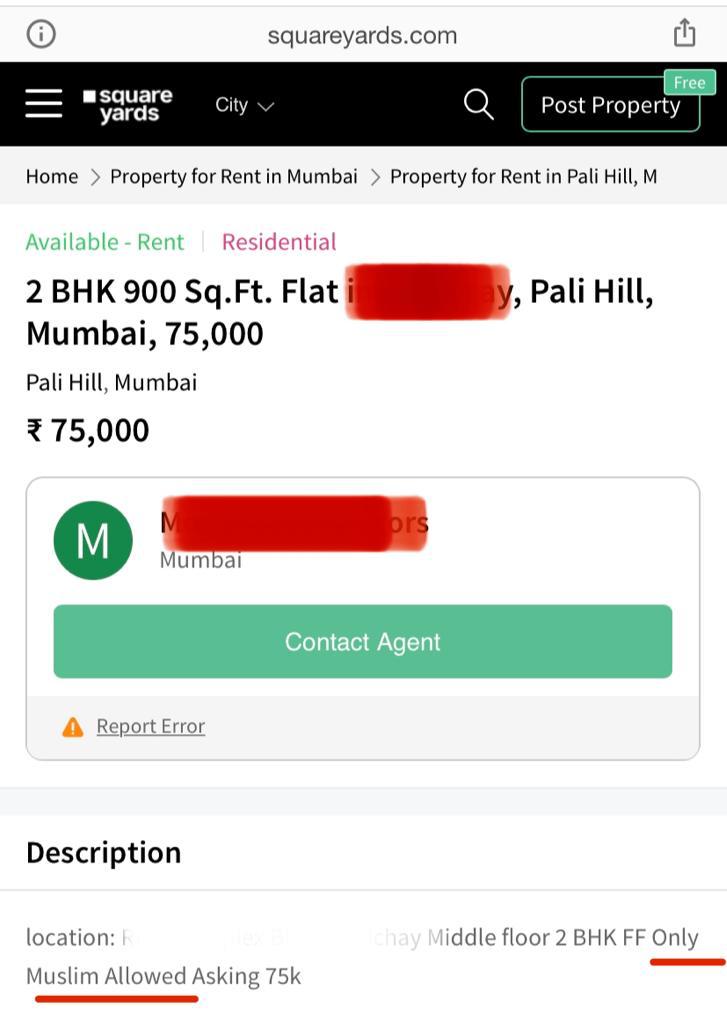 The price for the 2 BHK apartment on rent is Rs 75,000 but again 'Only For Muslims.'
Another flat available in Mahim was only for Muslim family. There were multiple such advertisements.
A detailed email sent to squareyards.com seeking their comment got us no response.
Another advertisement posted on a property portal clearly mentioned that the flat was available on rent in Mira Road but only for a 'Muslim party.'
In city like Mumbai there are many areas where a specific community is allowed only to buy or rent a home.
There are just many barricades that exists on several levels. For example there are many societies which do not rent homes to a single woman. Or for that matter even a bachelor is not allowed in many buildings.
There are societies and many examples are available where Muslims are denied homes only because of their religion.
When asked Adv Vinod Sampat for his opinion on this, he quoted a case and said, "The Supreme Court in Zoroastrian societies matter has allowed members only of Zoroastrian community to reside in said society."
Actor Aamir Ali had way back in 2007 reportedly claimed that a housing society in Andheri had denied to sell him a house because of his religion.
The trend is not new at all, where people try to sell homes only to a buyer from a specific religion.
This report in 2015 had exposed how several property portals had advertisements that clearly mentioned 'Only Muslims Allowed.'
There also exists another bias, that is where, many owners don't rent or sell their flats to those who eat non-vegetarian food.
So, in many cases it is not just religion, gender, marital status even your food habits that can keep you away from the home you like.
Also Read: Muslims are allowed in Adani Project