In a period of around eight months Yes Bank has put a property again on the block to be auctioned at a reserve price which is Rs.10 crore less than what the bank had quoted in February.
By Varun Singh
In an auction sale notice for sale of an immovable assets under the securitisation and Reconstruction of financial assets and enforcement of security interest act 2002 was issued by a bank on October 25, 2021.
The same property was put on auction by the same bank in February 2021.
In February 2021 the reserve price fixed by the bank was ₹277 crore.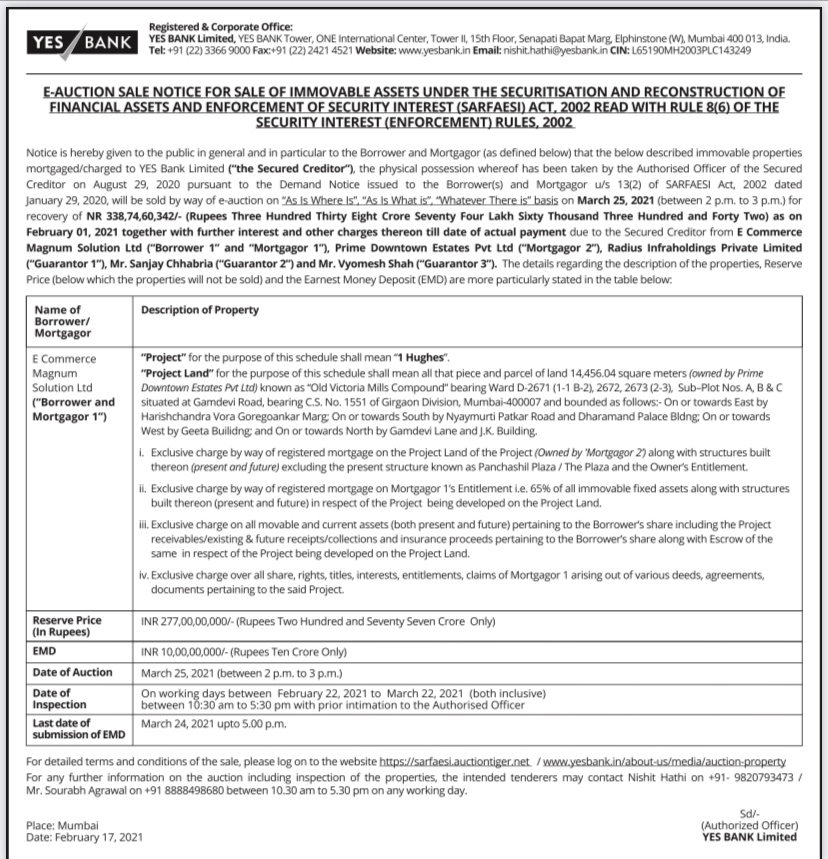 However, the reserve price of same property now put on auction by the bank in October is ₹267 crore.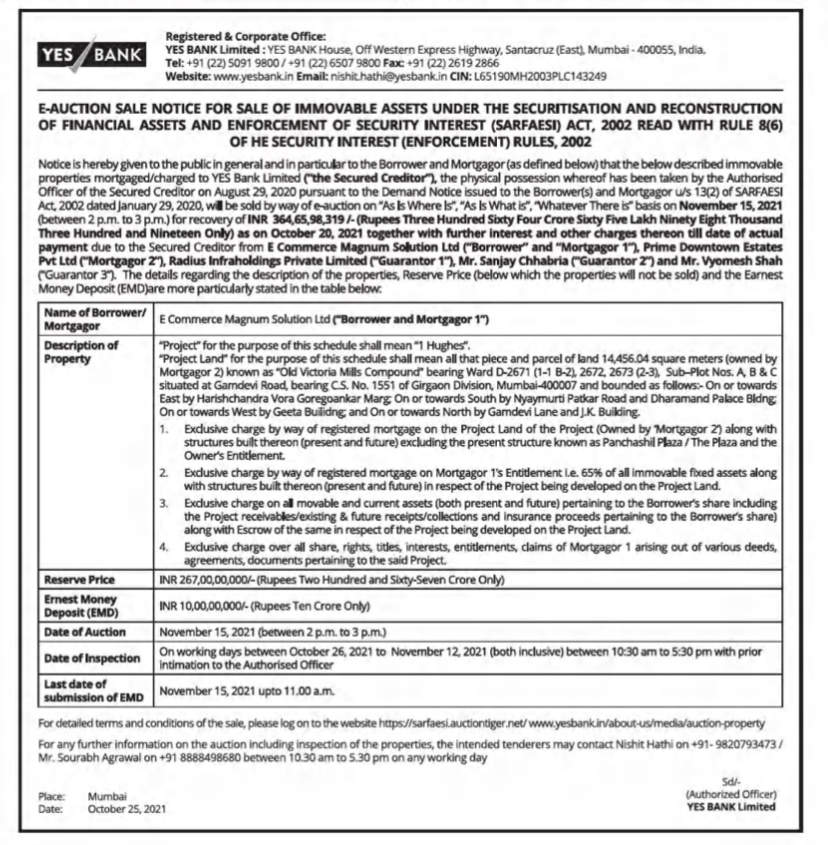 The property has been put on sale via E auction by Yes bank.
The name of the borrower & guarantors is e-commerce Magnum solution Ltd, prime downtown Estates Private Limited, Radius Infraholding Private Limited , Sanjay Chhabria and Vyomesh Shah.
Description of the Property:
The description of the property includes projecg 1 Hughes, Project land which is a piece and parcel of land 14,456.04 sq mts known as old Victoria Mills compound, Situated at Gamdevi Road, Girgaon.
The property includes exclusive charge by way of registered mortgage on the project land of the project along with structures built thereon excluding the present structure known as Panchshil Plaza/the Plaza and the owners entitlement.
Exclusive charge by way of registered mortgage on mortgage of one's entitlement that is 65% of all immovable fixed assets along with structures built there on in respect of the project being developed on the project land.
Exclusive charge on all movable and current assets both present and future pertaining to the borrowers share including the project receivables/existing and future assets/collections and insurance proceeds pertaining to these borrowers share along with escrow of the same in respect of the project being developed on the project land.
Exclusive charge overall share, rights, titles, interest, entitlements, claims of mortgage one arising out of various deeds, agreements, documents pertaining to the project.
The reserve price for the property that has been put on E auction sale is Rs 267 crore.
The earnest money deposit END is Rs 10 crore.
The date of auction is November 15, 2021 between 2 PM to 3 PM.
The date of inspection is between October 26 to November 12 2021 between 10:30 AM to 5:30 PM with prior information of the authorised officer.
A detailed message sent to Sanjay Chabbria seeking his comment on the entire notice got us no response.