MLA Hostel in Mumbai will be reconstructed by a Private player, three big private firms have shown interest to the tender floated by government.
By Varun Singh
Earlier in May this year, The Presidency division of Public Works Department, Maharashtra had floated a tender with an estimated cost of Rs 900 crore for the reconstruction of Manor MLA hostel.
Manora MLA hostel is located at Nariman Point and has housed the Members of Maharashtra legislature for quite some time.
The MLA hostel was declared dilapidated a few years ago and since then the reconstruction work has been in pipeline.
The work of the reconstruction of the MLA hostels was earlier given to NBCC India Ltd. However, in December 2020 citing slow progress the work was given to PWD.
The NBCC had planned of building swanky apartments measuring 1000 square feet to accommodate the MLAs and MLCs. NBCC had planned to construct two towers – 50 floors and 32 floors respectively consisting of 373 flats.
In May PWD floated an E-Tender Notice calling request for qualification for the work "Reconstruction of Manor MLA Hostel for Maharashtra Registration at Nariman Point, Mumbai.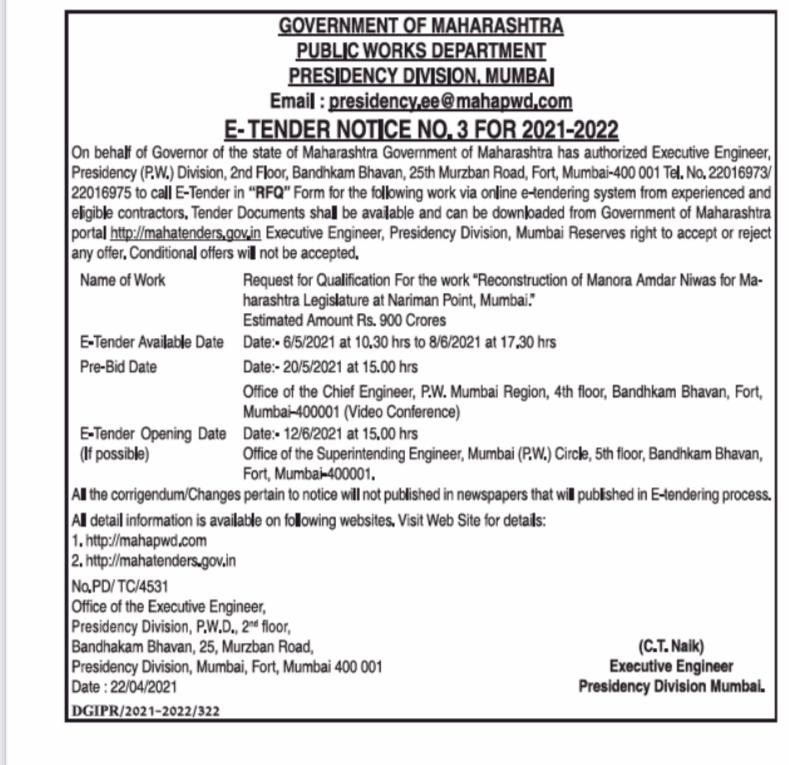 The estimated cost of the project as per the tender is Rs 900 crore.
Now according to sources three top private players have shown their interest in redeveloping the MLA Hostel.
The names of these three firms are TATA, Larsen & Toubro and Shapoorji Pallonji.
While attempts to contact Manoj Shaunik, Secretary, PWD got us not response. An officer said now one of the three bidders for the tender will be finalised soon.
Earlier when the tenders were opened there was only one response and hence more bids were called in.
Finally three bids came and all from reputed firms of the country.
Apart from this the three names has also featured while the redevelopment of the ambitious BDD chawls at Naigaon, N M Joshi Marg and Worli.
NM Joshi Marg is being redeveloped by Shapoorji, Naigaon will be redeveloped by L&T.
Once constructed these hostels will be occupied by MLAs of the state.
The hostel comes useful during assembly sessions when MLAs from all across the state come and stay in Mumbai.
As most of them are from different locations and Mumbai being the capital the hostel if constructed will solve a lot of problems.
Also Read: Rs 900 Crore Tender For Reconstruction of MLA Hostel In Mumbai