The Presidency division of Public Works Department, Maharashtra came out with a tender with an estimated cost of Rs 900 crore for the reconstruction of Manor MLA hostel.
By Varun Singh
On Tuesday the government of Maharashtra's Public Works Department's Presidency division came out with a E-Tender notice.
This notice pertain to the reconstruction of the Manora MLA hostel for Maharashtra legislature at Nariman Point, Mumbai.
Manora MLA hostel is located at Nariman Point and has housed the Members of Maharashtra legislature for quite some time.
The MLA hostel was declared dilapidated a few years ago and since then the reconstruction work has been in pipeline.
The work of the reconstruction of the MLA hostels was earlier given to NBCC India Ltd. However, in December 2020 citing slow progress the work was given to PWD.
The NBCC had planned of building swanky apartments measuring 1000 square feet to accommodate the MLAs and MLCs. NBCC had planned to construct two towers – 50 floors and 32 floors respectively consisting of 373 flats.
Now PWD has floated a E-Tender Notice calling request for qualification for the work "Reconstruction of Manor MLA Hostel for Maharashtra Registration at Nariman Point, Mumbai.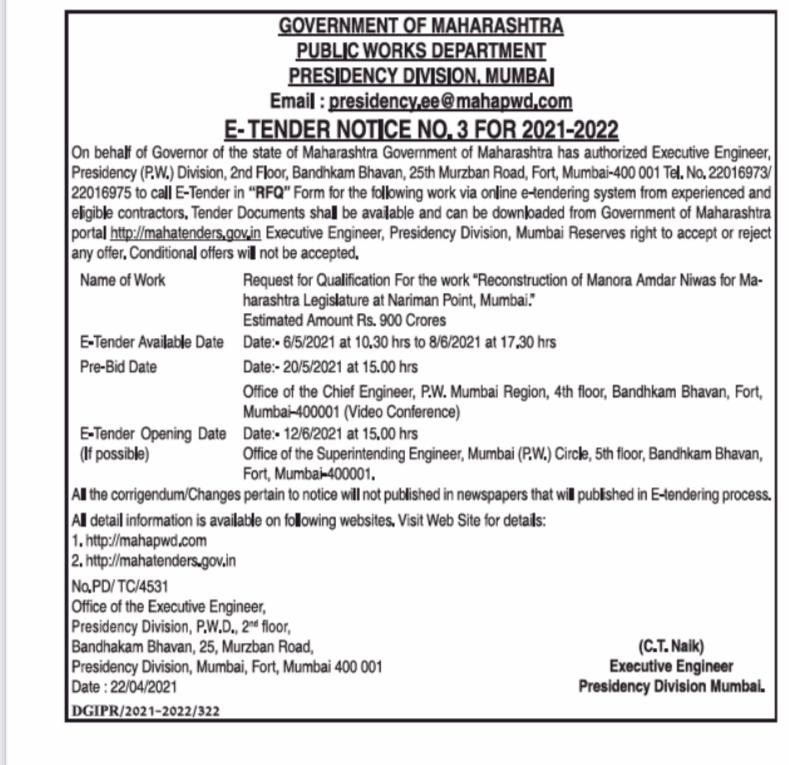 The estimated cost of the project as per the tender is Rs 900 crore.
The E-tender shall be available from 10.30 am of May 6, 2021 to 5.30 pm on June 8, 2021.
The pre-bid date for the E-tender is May 20 at 3 pm via video conferencing.
The E-Tender opening date is June 12, at 3 pm at the office of the Superintending Engineer, Mumbai, Bandhkam Bhavan, Fort, Mumbai.
All the detail information shall be available regarding the E-tender can be seen on this website.
The Executive Engineer, Presidency Division, Mumbai reserves the right to accept or reject any offer. Additionally conditional offers will not be accepted.
Also Read: Bhushan Kumar Of T-Series Paid Rs 167 Crore For Juhu Bungalow