Bofors Agent Win Chadha's flat located in Palacimo, Silver Oak Estate in Breach Candy has been sold. The flat auctioned by IT department was registered on August 17 in Mumbai.
By Varun Singh
A flat located in Silver Oak Estate's Palacimo building at upmarket Bhulabhai Desai Road was sold recently by the Tax Recovery Officer (International Taxation) of the Income Tax Department.
The notice for the sale of the flat was issued in September 2019, for the recovery of the sum of Rs 224 crore (plus interest) from the defaulter Hersh W Chadha, (Legal heir of Late W.N. Chadha).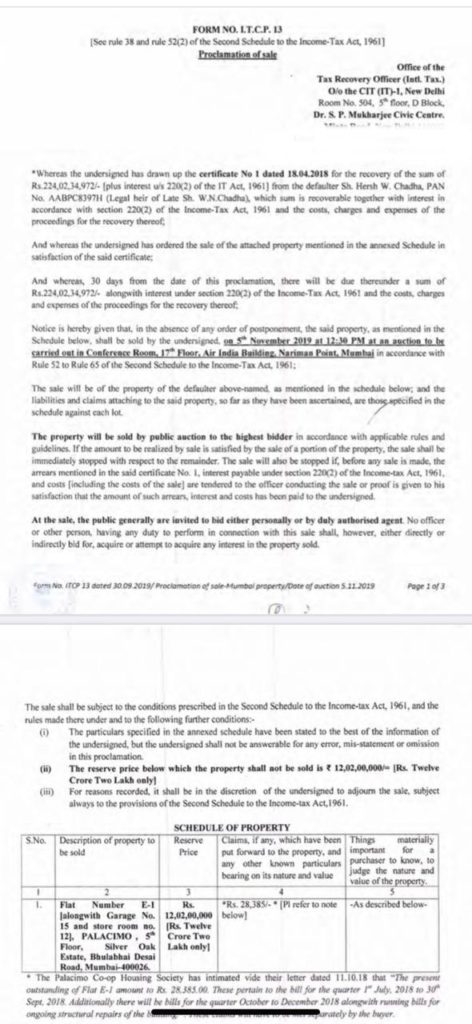 Win Chadha's name came up as an accuse in the Bofors case, where. he was the alleged middleman. Chadha died in 2001 at the age of 77.
The flat E 1, is located on the fifth floor of the building Palacimo, in Silver Oak Estate. The buyer of the flat is a resident of the same floor.
According to documents available with SquareFeatIndia.com, the paper work regarding the sale was carried out on December 12, 2019.
However, the deal was registered between the Income Tax Department's Tax Recovery Officer (International Taxation) U K Das and the new buyers on August 17, 2020.
The stamp duty paid for the 3 BHK flat was Rs 72.15 lakh. The flat measures 1604 square foot, and the new buyers also got a store room and a garage along with the flat.
The reserve price of the flat was Rs 12.02 crore, and it was sold for Rs 12,02,51,000. Only Rs 51,000 above the reserve price.
According to sources, the auction was held in November 2019, at Air India Building, Nariman Point.
Chadha's name popped up in the Bofors case, which rocked the nation in the 90's. According to a report, the CBI in the 1990 had registered an FIR against Martin Ardbo, the then president of AB Bofors, Win Chadda and the Hinduja brothers. CBI was probing an alleged corruption charges in the purchase of howitzer guns for the Indian Army.
An email sent to the TRO seeking a comment got us no response.
The road on which the building is located is one of the. poshest locations in the city, where many influential people reside.
Also Read: Builder Sells SoBO Flat At Less, For Want Of Liquidity