CIDCO which is mostly seen working outside Mumbai and especially in Navi Mumbai has been assigned the task to fast track construction of a dedicated COVID centre in Mumbai.
By Varun Singh
City Industrial Development Corporation (CIDCO) is fast tracking the construction of a dedicated COVID Health Centre in Mumbai.
This. COVID health centre will be able to accommodate 2000 bed facility.
The COVID health centre to be constructed by CIDCO is located in the old Crompton Greaves Company located in Mumbai's Kanjurmarg east, Mumbai.
The COVID centre will have 1400 oxygenated beds, 400 non-oxygenated beds and 200 ICU beds.
Recently CIDCO came out with a tender inviting applications from bidders, well experienced agencies in the field who have completed similar nature of work.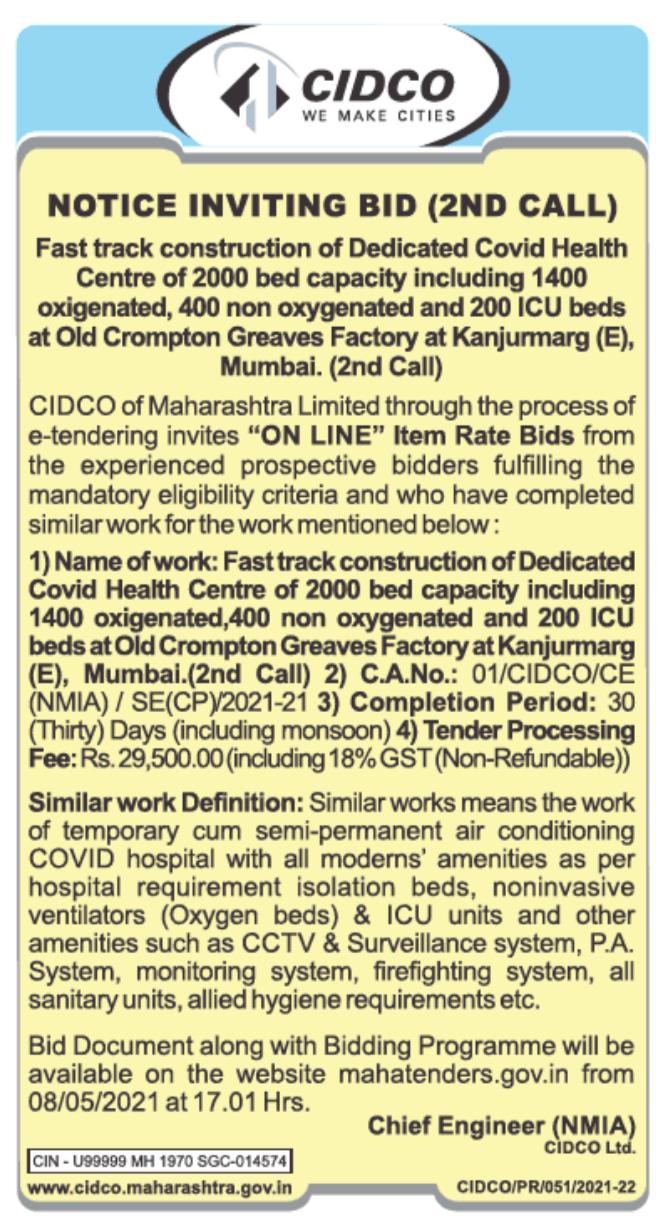 With the severity of COVID cases on an increase and the second wave catching us all unaware, the government is increased COVID health centers.
While it is a known fact that within Mumbai region CIDCO is rarely seen implementing a work, but looks like the government is using all the available machinery to battle COVID.
A senior official from CIDCO confirming the fast track construction of COVID health centre at Kanjurmarg east in Mumbai said, that the corporation is carrying out the work as per government of Maharashtra's directive.
The bids of which the submission started on May 8 in the evening will have the bids opening at 5 pm on May 12.
In Mumbai most of the COVID facilities have been erected by the BMC and the MMRDA.
While the city of Mumbai is seeing a decline in the number of COVID positive patients compared to what it was a week or two ago. The government hasn't stopped arming itself with new facilities.
The new COVID facility being built in Kanjurmarg east will help lessen the burden of COVID patients on the existing ones.
Also Read: Navi Mumbai Metro's Chugs; 11 Years After The Project Launched