The second wave of COVID 19 is creating chaos, the infrastructure is unable to take the growing number of patients. Developers from Mumbai have managed to create a space and infrastructure for over 330 beds till now and expecting that more infrastructure shall be created soon.
By Varun Singh
The. true character of a community is known during times like this. While there are many homebuyers who have complaints from the developers community.
The developers community has in these troubled times of COVID 19 pandemic have managed to provide space and infrastructure for over 330 beds inn Mumbai.
The developers belong to CREDAI-MCHI, an apex real estate body in the city and Mumbai Metropolitan Region.
CREDAI-MCHI, has over 1800+ member developers. On Thursday it announced a slew of measures to provide necessary medical and infrastructural aid to combat the spread of the much more severe second wave of COVID 19 in the Mumbai Metropolitan Region.
In addition to announcing other initiatives including undertaking vaccination drives for construction workers and mandating strict safety measures at the construction sites, CREDAI MCHI developers have now also converted a few select commercial properties into COVID centres in cooperation with the BMC.
Comprehending the severe impact of the second wave of COVID 19, leading developers including Rustomjee, Ajmera and Shree Naman group have come forward to provide additional infrastructural support at a time when there is a dire need to facilitate COVID 19 centres with extra real estate capacity and beds.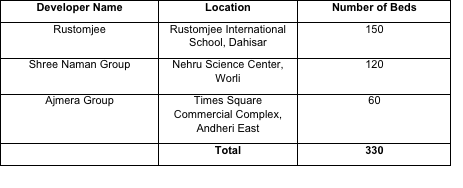 Deepak Goradia, President, CREDAI-MCHI said, "The second wave of COVID 19 has been extremely severe with an unprecedented number of cases which has taken an excessive load on MMR's public health infrastructure. Comprehending the gravity of the situation, leading MCHI developers have joined hands with the BMC and are contributing to the Government's cause and measures to fight the pandemic. Till now, we have provided space and infrastructure for over 330 beds while we anticipate more developers to join this movement in the near future."
Also Read: Soon An Exam To Become A Real Estate Agent