An FIR has been registered against directors and other representatives of Pashmina Realty in Mumbai. The FIR has been registered on a complaint by another top developer Ekta World.
By Squarefeatindia Team
An FIR has been registered by a top developer of Mumbai against another known developer.
The FIR was registered on Saturday October 16, 2021 in Juhu Police station.
After taking the statement on record of the complainant developer, Juhu police station lodged an FIR bearing No. MECR NO. 05/21 against the Directors u/s 420, 467, 468, 471, 120(B) and 34 of India Penal Code (IPC) against the developer.
The project in concern is located in Chandivali area near Powai.
In a detail conversation with Squarefeatindia the complainant developer Ekta World's Ashok Mohananai made several allegations against Pashmina.
Even Dr Rajendra Singh, of Pashmina Realty, the developer against whom Mohanani made the allegations spoke in detail with Squarefeatindia and presented his side.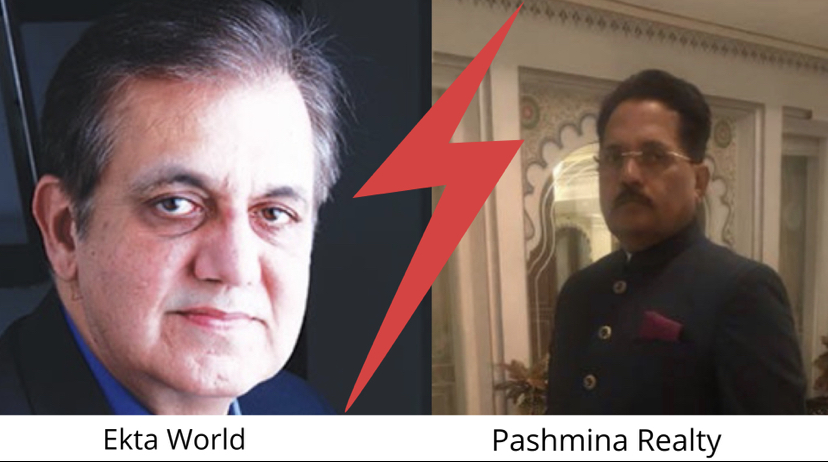 Here's the exact details of what transpired and how things between two top developers of Mumbai led to an FIR.
Ekta World's side of story:
Ashok Mohanani founder of Ekta World Group of Companies and the Director of Ekta Housing Pvt. Ltd. first filed a complaint before the Metropolitan Magistrate 10th Court Andheri u/s 156(3) and under the directions of the Metropolitan Magistrate, Police called Mohanani to record his statement.
Brief facts leading to this FIR are as follows ;
Ekta World claims that having set up their project Lake Homes in Powai area were allegedly approached by Dr. Rajendra Sing & others of Pashmina realty for doing business jointly in regards to a portion of land admeasuring about 14,153.42 square meters situated in Chandivali, Mumbai which they had acquired in the year 2006.
Ekta World alleged that it was represented to Ashok Mohanani and his Son Vivek Mohanani who is also a Director in Ekta Housing Pvt. Ltd., by Pashmina Directors/ representatives that this land can be redeveloped with the help of Ekta's expertise in the real estate industry and by utilisation of Ekta's brand name and that under the Redevelopment scheme, they intended to construct 5 PTC Buildings, 2 Rehab Buildings, 1 Sale Building, and one commercial building and that the project is worth almost more than Rs 1000 Crores. Further they have already taken care of most of the encroachers in lieu of offering Permanent Alternate Accommodation or compensation and only 79 were remained to be settled out of 795. Further they can meet up again if interested in taking up the joint development of this plot.
Ekta World also alleged that Pashmina even offered Ekta that if they take up the entire charge of the project, execute the same under their trade mark "EKTA WORLD", so as to ensure the customers that the project is being executed by Ekta, Pashmina will pay them 7.25% of the realizations arising from the area sold by them earlier under their project "Pashmina Lotus" and 15% of realizations from the balance sale area available in the project towards the Development Management fees.
Ashok Mohanani also alleged that not only this the builder's representatives have also represented Ekta that they further intend to acquire three adjoining lands totally admeasuring about 4347.6 sq. mtrs.
Post the discussion Ekta claims that Ashok Mohanani & Vivek Mohanani agreed to enter into a Development Management Agreement ("DMA")with Pashimina Realty Pvt. Ltd. and accordingly executed the DMA on 11th July, 2016 on the terms and conditions stated therein. Further as per the terms of the said DMA they have also paid Rs 30 crores towards Security Deposit which was to be utilised by Pashmina Reality Pvt. Ltd. for the purchase of the additional land parcels. In addition to the security Deposit, Ekta claims that it has also assisted the developer in obtaining third party finance to the tune of 200 crores.
Ekta further alleged that pursuant to the discussions, negotiations and execution of the DMA, Ekta Housing Pvt. Ltd. has over and above granting security deposit, assisting Pashmina in obtaining 200 crores funding (though as per DMA they were to obtain much lesser amount of third party finance), Ekta has till 9th August, 2019 generated Rs. 20 crores by selling the Flats in the new building /project undertaken by them jointly in the name of "Lake Riviera" and for the purposes of generating huge sale and promotion of the project as well as enhancing faith and confidence of customers in Pashmina too, Ekta has incurred huge expenses towards marketing, advertising etc., and which were to be reimbursed by Pashmina to Ekta.
Ekta further claims that as per the terms and conditions of the said DMA, Pashmina and Ekta were to operate Master Escrow Account in respect of the said Project alongwith other accounts as detailed therein which were to be operated either jointly (with joint signatories) or only by Ekta.
Mohanani alleged that, however, in complete disregard to the understanding, highhandedly, the developer opened various accounts with their single control without the knowledge of Ekta and thereby defrauded Ekta and siphoned off the money / receivables of Master Escrow Account.
Ekta further claimed that though Ekta paid Rs 30 crore towards refundable Security Deposit, the developer failed to purchase additional land parcels till date and have also failed to reimburse to Ekta various moneys towards the expenses incurred by Ekta for and on their behalf and in addition till date failed to pay the Management Fees as agreed under the said DMA and suddenly, on 9th March, 2020 unilaterally and in complete disregard to Ekta's various efforts to complete the project the developer sought to terminate the said DMA on false, pretentious, imaginary, concocted and fanciful grounds without payment of a single rupee to Ekta.
Ekta has claimed a wrongful loss of around Rs 165 crores and more.
Pashmina Realty's side of story:
Dr Rajendra Singh, the director of Pashmina Realty against whom Ekta World made several allegations narrated his side of the story.
Singh claims that Ekta had made several promises and couldn't deliver them. Singh alleged that Pashmina suffered losses in the project because of Ekta and hence after trying to conciliate between both the parties for several months they decided to terminate to the Development Management Agreement with Ekta.
Singh alleged that Ekta's Mohanani even carried out deals without their consent and information. He claimed that it is Pashmina which was faced a fraud.
Singh further claimed that the case is already going on in a Higher court and not entire truth was put in front of the Magistrate.
Singh says that the FIR is an MECR one where the magistrate has ordered to carry out investigation as per 156 (3) of CrPC and submit a report.
Pashmina Realty claims it will challenge the FIR legally and take the matter with the High Court.
Singh says that they have been doing well without Ekta since the last one and half year and carrying out the project too.
Singh said, "Ekta Housing Pvt Ltd has failed in discharging its obligations. As such, we terminated the Development Manager Agreement. The matter is pending before the High Court and they have not received any relief. Ekta Housing Pvt Ltd has been misguiding the investigation agencies."
According to Singh, Ekta was merely a manager with specified purposes and as they failed to deliver them, the developer canceled the agreement and terminated the agreement.
Also Read: Nirmal Asked To Pay Interest To Homebuyers