Mohandas Karamchand Gandhi, had a office in this Mumbai building near the high court. SquareFeatIndia visited the building, even the current landlords were surprised.
By Varun Singh
Mahatma Gandhi had an office in Mumbai from where he practiced law in the year 1902. The building even stands today and SquareFeatIndia visited that building.
Actually great grandson of Gandhi, Tushar Gandhi took to twitter to inform that he has found the building from where Gandhi practiced law when he returned from South Africa in 1902.
Tushar in a two series of tweets, said, "In 1902, during a brief return from South Africa, M. K. Gandhi established his law practice in Bombay. I had always wanted to find his office. Recently I came across a letter in which postal address of his office was mentioned, Aga Khan Buildings, Opposite High Court."
He then tweeted, "Was keen to locate the building. Delighted that with help of knowledgeable friends have located the building in which Advocate M. K. Gandhi had his Lawyer's Office. Building is today called 'Bhupen Chambers' situated on Dalal Street. Now to get it officially tagged."
This reporter visited the building, the building named Bhupen Chambers is located exactly opposite the main entrance of the Stock Exchange building.
The building has new landlords, and they are also Gandhi's. The new landlords who acquired the building in 1982, sounded excited when they read Tushar's tweet, but claimed ignorance about the details.
They called the previous landlord Bhupen Dalal for details but couldn't get any. The current landlord stated that for them also it was a big news and they will dwell deeper in this and get details. They also said they will get in touch with the Aga Khan offices and try getting details.
The four storey building is very old more than 100 years old and had a lock from inside, which a watchman would open when someone known would appear.
The building earlier was known as Aga Khan building, but changed landlords, and the current landlords acquired it in the year 1982 from a cousin of Bhupen. Bhupen had acquired it from the original landlords.
The building even had a notice at the main gate, the notice read, "BirhanMumbai Mahanagar Palika have declared that certain structure/portion of this building i.e. Bhupen Chambers is in a ruinous condition and likely to fall and dangerous to any person occupying, resoring to or passing by the same. Any person using and/or occupying and/or passing by this building and/or portion and/or part thereof are doing so at their own peril and that landlords will not be responsible for any harm, loss, damages or injury caused to any person and/or property die to their use and/or occupation and/or passing by of the building and/or any portion and/or part thereof."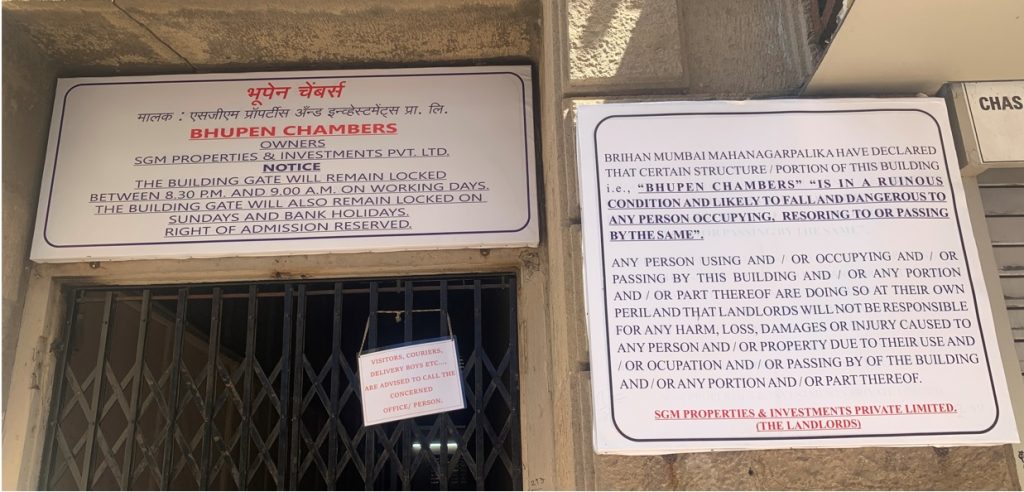 The notice was signed by SGM Properties and investments private limited (The landlords). The building apparently has seen many top advocates and judges occupying it during different phases of the last and the present century.
If we get any more details on the same from the landlords or Tushar about Gandhi's office and which floor he occupied and how big the office was, we shall update our readers.
Also Read: NaMo Gave JNU More Money Than MMS: RTI.