Home loan shifts from metros to periphery districts
Home loan rates lowered will it benefit homebuyers?
Home loans in periphery districts of metro cities see a rise. The periphery district with lower land price and affordable homes saw more loans being disbursed than metro cities.
By Varun Singh
Home loans are shifting from metro cities to periphery districts. According to a research, smaller town and cities have seen a better home loan off take, beating the metros share by eight per cent.
A look at India's home loan market reveals that the pace of home loans growth is at 19% for rest of the nation during Mar-13 to Mar-19. While that of districts which comprise of top 7 metro cities grew at 12% over the same period. The research has been carried out by JLL India.
Research reveals that home loan growth in the districts that comprise of top 7 metro cities, Delhi, Mumbai, Kolkata, Chennai, Bengaluru, Hyderabad and Pune, grew at a relatively slower pace than rest of the country.
Improved connectivity and economic prospects and lower land cost have spurred higher
residential growth in these smaller cities, which is reflected in rising home loans. The urban
sprawl, as well as growth in peripheral regions, has created new growth regions apt for better
investment.
India's home loan market growth stood at Rs 11.5 trillion as of Mar-19. Districts comprising top 7 metro cities witnessed a growth from Rs 1.8 trillion to Rs 3.6 trillion during Mar-13 to Mar-19.
On the other hand, the rest of India home loans grew at a high of 19% from Rs 2.8 trillion to Rs 7.9 trillion. This implies that the growth in Tier-II and Tier-III cities is quite substantial. 
The top 4 districts comprising metro cities of Delhi, Mumbai, Kolkata and Chennai grew between 8 and 12%. However, the peripheral districts around these metros grew at a higher pace.
For instance, Gurugram grew by 18% as against 8% of National territory of Delhi due to growth of offices and affordable housing options this region.
Similarly Chennai grew by 8% while neighbouring Kanchipuram grew by 35%. This growth has been driven by higher demand for mid-income and affordable housing segment.
Demand for housing shifted to suburban regions as home buyers looked for homes that were within their budget. Lower land cost, larger land parcels and integrated amenities attracted homebuyers looking for aspirational homes at affordable prices.
The other two prominent districts mainly- Bengaluru and Pune have registered higher growth of 15% and 18% respectively during the same period and these districts have been driven by strong service sector growth thereby pushing housing demand.
The study of the home loan growth, highlights that there are 45 districts representing Tier-II/ III cities that have registered higher growth than the national average.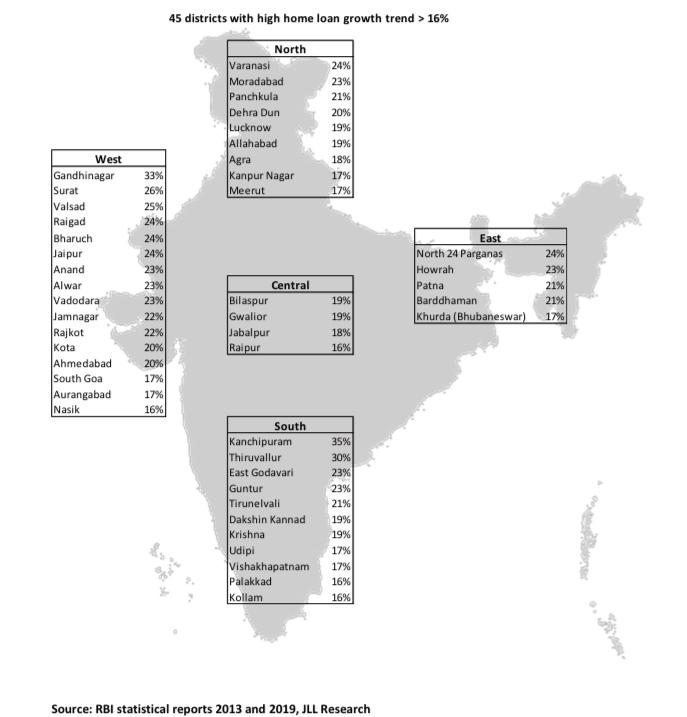 Most of these cities have been driven by manufacturing or services sector like ceramic tiles, diamond processing, tourism, textiles, leather industry, agro-processing, automobiles, engineering goods etc.
The economic growth over the years has been complimented with improving connectivity, infrastructure growth, better education and health care facilities leading to improvement in living standards.
The impact of these projects along with government policies is expected to be long term and will make these cities more attractive destinations for various industries as well as residential real estate.
Also Read: RBI finally takes steps to counter coronavirus lockdown