These 8 projects have had their registration revoked by MahaRERA, if these 4 lost their registration in September. Hope you haven't invested or bought a flat in these 8 projects.
By Varun Singh
Maharashtra Real Estate Regulatory Authority (MahaRERA) has revoked the registration of total 8 projects.
Of these 8 projects MahaRERA revoked the registration of 4 projects in the month of September.
Of these 4 projects, one project lost its registration of September 14, the other one's registration was revoked by MahaRERA on September 24, whereas the remaining two were declared Ab Initio Void on September 28.
While we give your details of the 8 projects, one should know why registration is important.
According to RERA a developer before selling any flat within Maharashtra has to register their project with MahaRERA.
This is to bring transparency, and accountability on the part of the developer.
The developer during registration has to mention all details fo the projects he's carrying out. This even included completion date.
If the developer fails to delivery the apartment on or before the date of completion MahaRERA has the powers to levy a fine along with interest.
The 8 projects are
Mithanagar Archana CHS LTD. of which promoter is Dhanashree Developers
DSK Sadaphuli of which promoter is DSKulkarni Company
DSK Sadaphuli of which promoter is DSK Worldman Projects LTD
Laaffaires Avenue Commercial and Laflor Residency Commercial of which promoter is SSV Realtors
Sai Developers and Builders of which promoter is Shirsagar Yadav
Ganeshwadi CHS LTD-SRA, of which promoter is Ashok Gupta
Rite Civis of which promoter is Yashodanand Developers
Hariom Vikla of which promoter is Mageshkumar Shah
These are the 8 projects which lost their registration. The last 4 that is from 5-8 lost their registration in the month of September 2021.
So if you are a homebuyer and have invested then please check whether you have invested in these projects.
Home buying a lifetime experience and people invest their lifetime savings in it.
However, there are umpteen examples where homebuyers have ended up suffering because of the developers.
The government came out with regulations that can help homebuyers and RERA is one such.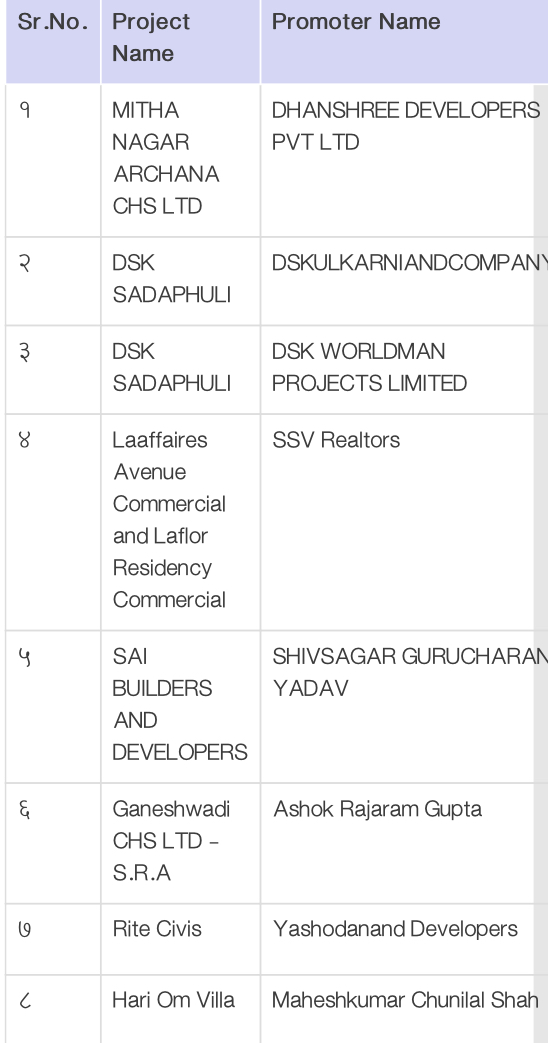 Projects without MahaRERA registration are not allowed to sell, advertise or market in the state and these 8 projects now fall in this category.