Housing society cannot stop a maid says State government. On Friday a letter regarding the same was issued to cooperatives commissioner.
By Varun Singh
On Friday, the department of cooperatives, directed the cooperatives commissioner, Pune, to inform all housing societies that they cannot frame rules of their own.
Many housing societies had come up with rules barring the entry of maids and even drivers in their complexes in the wake of COVID 19.
Even those that allowed had put several clauses, one such clause was, that maids should bring in test results to show that they are not COVID positive.
Also Read: Societies now demand COVID test reports of maids
The letter issued on Friday reads, "In the wake of COVI 19, the instructions issued by the government from time to time never barred domestic workers and drivers from entering the premises of housing societies for work."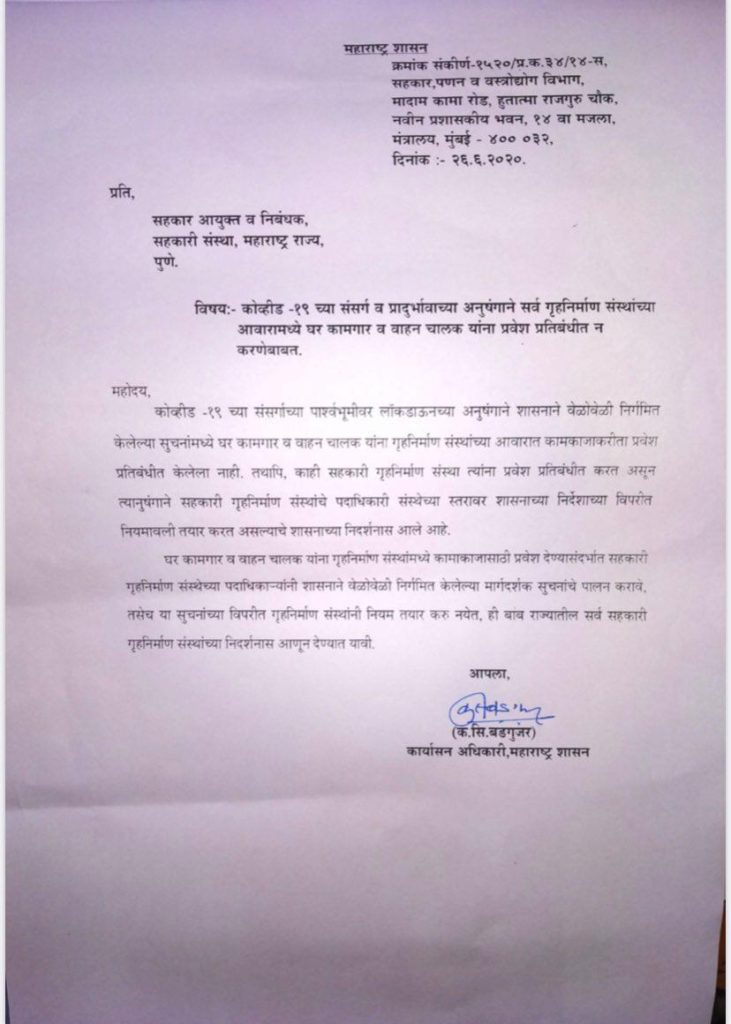 It further states, "However, some cooperative housing societies are restricting access of maids and drivers. Accordingly, the government has observed that the office bearers of cooperative housing societies are preparing regulations contrary to the directives of the government."
The letter has asked cooperatives commissioner to inform all societies to follow the rules laid down by the government regarding entry of maids and drivers.
Even Maharashtra Societies Welfare Association (MahaSeWa), a body comprising of housing societies had earlier concluded that Managing Committees had no right to stop a maid to come and work.
Also Read: Managing Committee has no right to stop any maid
The maids union on the demand of some societies asking COVID test results from them had asked whether their employers will do the same.
Babli Rawat, General Secretary of Domestic Workers Federation, on the move of societies barring maids had then said, "This disease came from the rich people who travelled to foreign countries, and then it got transmitted in slums and other areas."
Maids had asked why were the poor being punished for a disease brought in by the rich on maids not being allowed by housing societies.
Maids are essential in many households, especially those where senior citizens reside as they are dependent on them for cooking food and cleaning of the house.
This new letter from the government will cheer up many of those who were not pleased by the rules made by housing societies.
Also Read: Maids ask, will employers show their COVID reports?