Office rental in Mumbai saw a growth of 2.2% in the first half of the year 2020, compared to H1 2019. A good sign amidst the pandemic.
By Varun Singh
Despite a decline in leasing activity, the weighted average transacted office rentals grew by 2.2% YoY in H1 2020.
Yes this did happen, when a major part of the H1 2020 has been under a lockdown due the Coronavirus pandemic.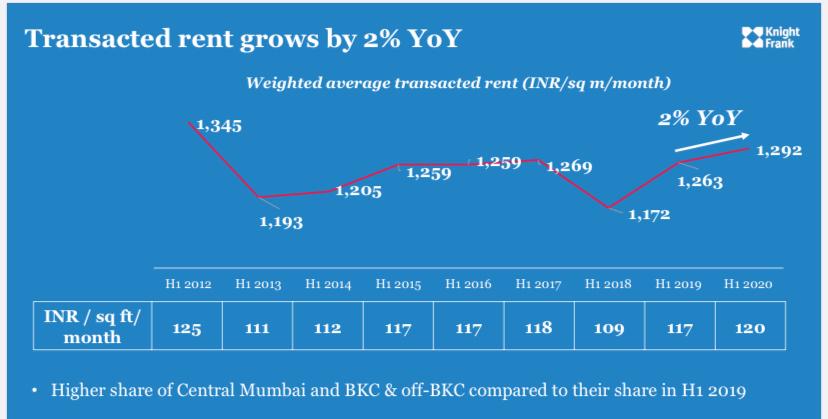 According to a report by Knight Frank India, new office completions in Mumbai saw a significant rise of 90% YoY growth to 3.64 mnsq ft in H1 2020. While the office leasing transaction volumes saw a decline of 17% YoY to 3.85 mnsq ft in the same time.
Despite a decline in leasing activity, the weighted average transacted rentals grew by 2.2% YoY in H1 2020 as the share of BKC and off-BKC with (2% YoY), and Central Mumbai (3% YoY) was high.

The average deal size in Mumbai reported a significant increase of 44.4% YoY to INR 3,892 /sq m (INR 41,987 sq ft) in H1 2020 from INR 2,700 /sq m (INR 29,059 sq ft) in H1 2019.
Despite the reduction in the number of deals from 160 in H1 2019 to 91 in H1 2020, the average deal size increase was primarily owing to larger deals transacted in BFSI and IT sectors.
The large leasing deals by an IT company and a BFSI company adding to 1.8 mnsq ft (0.18 mn sq m) in H1 2020 helped avert a more significant decline in leasing volumes.
Leasing activity is likely to stay under pressure in the coming months given the economic impact of lockdown.
Many occupiers would look to postpone their leasing decisions till things stabilize, some may be forced to give up existing spaces due to business slowdown.
BFSI had the highest share of transactions in H1 2020 at 41%, followed by Information Technology (IT) at 35%.
The share of the IT sector spiked up in H1 2020 due to a large deal by a leading IT company. However, the share of co-working sector in new leasing declined from 7% in H1 2019 to 3% in H1 2020.
In terms of location, Central Mumbai saw an exponential growth of 353% YoY to 0.67 mnsq ft transactions in H1 2020 followed by CBD & off CBD with 40% to 0.09 mnsq ft and PBD with 8% to 1.57 mnsq ft. 
The report mentions that due to economic slowdown, there is downward pressure on rentals which would reflect in transactions taking place in the second half of 2020. Rentals are likely to correct in certain business districts.
Rajani Sinha, Chief Economist and National Director, Research, Knight Frank India said, "The nationwide lockdown has brought the hitherto healthy momentum in office market of MMR to a halt. Businesses have become conscious of the impact of the lockdown and have therefore put their expansion plans on hold leading to lower leasing activity specially in Q2 2020."
She further added, "Co-working spaces, that had been observing phenomenal rise till end of 2019, were quick to go into a wait and watch mode, as the vacancy in co-working spaces increased as a direct result of the lockdown.
Also Read: 5-million retail jobs at stake if malls don't open soon