The Tree Authority of BMC issued 906 notices for removal of 14,518 tree in 2019, say Activists.
By Varun Singh
Believe it or not, but in 2019 the BrihanMumbai Municipal Corporation's (BMC) Tree Authority, issued 906 notices for removal of 14,518 trees.
Most of these notices were in regards to redevelopment of old housing societies, new constructions, infrastructure projects and other development projects carried out in the city of Mumbai.

According to Green activist Zoru Bhatena Mumbai's Tree Authority sought to remove over 14,518 trees during 2019.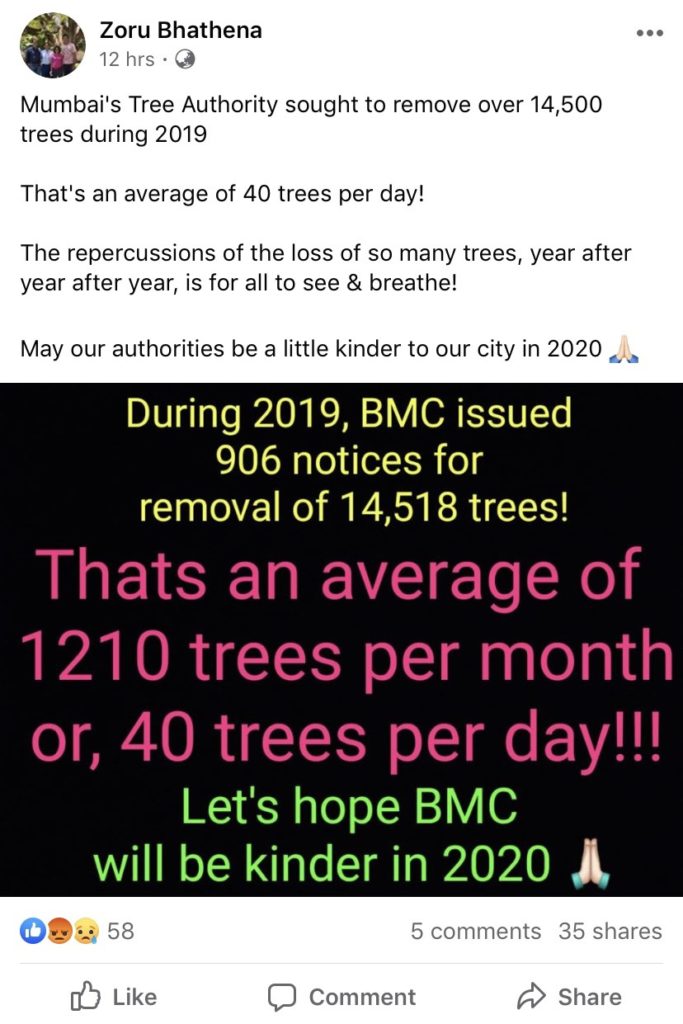 When calculated, this will come to an average of 40 trees per day or 1210 trees per month.
"The repercussions of the loss of so many trees, year after year after year, is for all to see & breathe. May our authorities be a little kinder to our city in 2020," said Bhatena via a Facebook post of his.

Mumbai as a city is surrounded by sea from three sides and is made of several islands connected by carrying out land fillings. The city today hardly has any vacant land remaining to carry out further construction activities. To take care of the growing demand of housing and infrastructure the land occupied by trees in many areas are eyed for development. 

Bhatena says, "The rampant destruction in tree cover and its ill effects are visible everywhere. Every Mumbaikar can see and breathe the ill effects of this mad rush to cut the trees. When will our authorities learn that development does not mean destruction."

He further adds, "It is never development or preservation. It never should be a choice of one over the other. Both can always go hand in hand. All it needs is the will and a good intent."

According to Niranjan Shetty former Tree Authority member of BMC, majority of permission sought for removal of trees are by housing societies going for redevelopment, and new building construction, while infrastructure development also holds a major share.

Shetty says, "We cannot deny permission for removal of trees for development or construction work when they follow the policy. However, I have been asking that the policy of transplanting more trees as compensation when one tree is chopped needs to be looked into."

According to Shetty, the figure is huge for 2019, and he says that there is a need of a policy change. "Many people when they uproot the local trees, plant Ornamental trees, while it could be a tree of another species that has been chopped. We at the BMC should see to it that trees that are axed the same variety of tree has to be planted."

Recently Mumbai witnessed a massive protest against the tree cutting that was carried out are Aarey. The trees were chopped seeking all the required permissions including the BMC's tree authority had given a nod. The trees were axed for making way for the Metro Carshed.
The new government in the state of Maharashtra has announced changes in the carshed location from Aarey.
A detailed sms sent to Municipal Commissioner, who is also the chairman of the Tree Authority to seek his responsibility got us no response.