MMR saw a total sales of 18,012 units in the last quarter of the financial year 2020-21. While every area witnessed a growth, but this particular area in MMR sold the maximum number of units in the last quarter.
By Varun Singh
Mumbai Metropolitan Region (MMR) sold a total of 18,012 units in the last quarter of the financial year 2020-21.
While almost all the areas in MMR witnessed a growth in sales, one specific area sold maximum number of units.
MMR as per a report of Liases Foras a real estate research firm is divided in eight zones or areas.
They are Island city, Central suburbs, Western suburbs, Thane, Navi Mumbai, Central suburbs extended, Western suburbs extended, and Panvel.
In Q4 2020-21 Island city saw a sales of 631 units, at the same time, Central suburbs saw a sales of 2,193 units and Western suburbs witnessed 2,951 sales.
Thane saw sales of 2,128 units, New Mumbai had 1,885 sales, Western Suburbs extended saw a total sales of 2,007 units, while Panvel witnessed a sales of 539 units.
The most number of sales in entire MMR was registered in Central suburbs extended, a total of 5,678 units.
In terms of unsold stocks Central suburbs extended has the highest number of unsold stocks in MMR. Central suburbs extended has a total of 77,095 unsold units.
Island city has 16,673 units, Western suburbs has 43,735 unsold units, Central suburbs has 48,521 unsold units. Thane, New Mumbai, Western extended sububrs and Panvel has 27,520, 18,511, 40,182 and 14,755 unsold units respectively.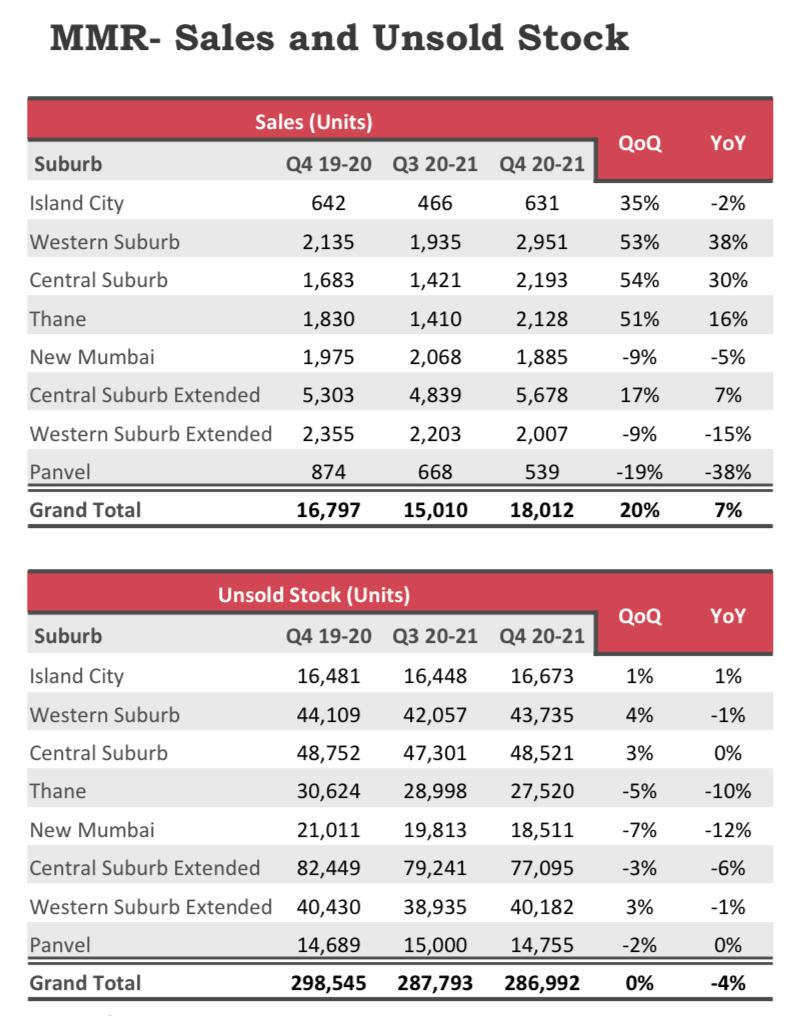 QoQ
• Sales increased Central Suburb by 54%, followed by western
suburb (53%), Thane (51%), Island City (35%), and Centra
Suburb Extended (17%).
• Sales decreased in Panvel by 19%, followed by Western Suburb
Extended (-9%).
• Unsold stock reduced 7% in New Mumbai, followed by Thane
(5%), Central Suburb Extended (3%), and Panvel (2%).
• The unsold stock increased in Western Suburb (4%) and 3%
each in Central Suburb and Western Suburb Extended.
YoY
• Sales increased maximum in Western Suburb (38%) and Central
Suburb (30%) followed by Thane (16%) while it decreased
maximum in Panvel by 38% and Western Suburb Extended by
15%.
Overall India, the eight major cities saw a sales of 69,697 units in the last quarter of 2020-21. Here MMR recorded the highest sales with 18,012 units, while Pune followed with sales of 12,950 units.
Ahmedabad recorded 6,990 sales, Bangalore saw 9,997 sales,Chennai recorded 3,621 sales, Hyderabad saw a total of 5,943 sales, Kolkata saw 3,054 sales, while NCR recorded a total of 9,130 sales.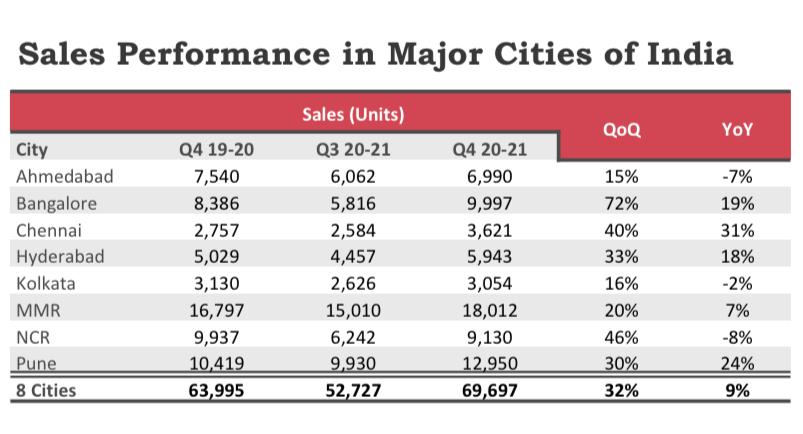 QoQ
• Tier I cities had recorded sales of 69,697 units in the Mar quarter (Q4 FY 20-21) which is a 32% growth compared to last quarter when the sales were 52,727 units.
• Sales across the Tier I cities have increased by 32%, with all cities showcasing an upward movement.
• Sales witnessed maximum recovery in Bangalore by 72%, followed by NCR (46%), Chennai (40%), Hyderabad (33%), Pune (30%), MMR (20%), and Kolkata (16%).
• Sales increased minimum in Ahmedabad by15%
YoY
• Overall sales across tier I cities increased by 9%.
• Sales in Chennai witnessed maximum growth of 31% on YoY, followed by Pune (24%), Bangalore (19%), Hyderabad (18%), and MMR(7%).
• NCR witnessed the maximum decline (8%), Ahmedabad (7%), and Kolkata (2%).
Also Read: MMR Homebuyers Prefer Smaller Homes: Report