Not kidding but a building in a Bandra spread over ground plus six storey is on sale. The asking price for this building is ₹65 crore.
By Varun Singh
Ever dreamt of buying an entire building? That too on the Queen of Suburbs Bandra?
This could be your chance, as it not a routine thing that an entire building is put on sale.
A ground plus six storey building in Bandra is being sold.
An advertisement regarding the same was put up by Cushman & Wakefield India Pvt LTD.
The building according to the advertisement is a classic styled standalone building at posh neighbourhood of Linking Road towards Pali Hill, Bandra West.
The building is ground plus six storey along with an open terrace.
The building comprises of 3 duplexes of 5-BHKs with internal staircase and a 3 BHK on the sixth floor.
There are in total 8 car parks including 2 enclosed garage parking.
The ground and first floor duplex can be converted for commercial purpose.
Those from Cushman & Wakefield dealing with the property said they are under an Non Disclosure Agreement and cannot reveal any details.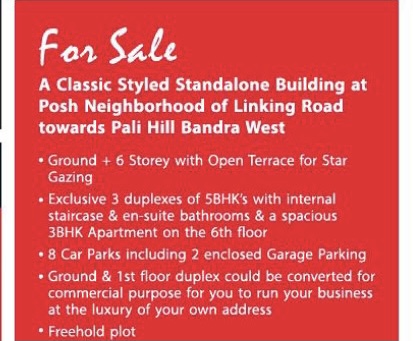 However, sources from the industry said that the building is on a plot measuring up to 3,500 sq ft.
Whereas the constructed area of the building is around 7,500 sq ft.
The building is located on the 16th road or Bandra and the asking price is ₹65 crore.
So if you have ₹65 crore and above and aspire to own a building in Bandra you may think of buying this property.
Bandra is the Queen of suburbs and houses too names of the Bollywood industry and several business names too.
Actors like Shahrukh Khan, Salman Khan, Ranbir Kapoor and others have a house here.
Kangana Ranaut's bungalow against which BMC had acted last year is also located in Pali Hill.