19 plots in Navi Mumbai are up for Grabs. These plots are being leased out by CIDCO, read here to Know the price and the locations.
By Varun Singh
Navi Mumbai, a well planned city provides a systematic living for its residents.
There are many who left the tony suburbs of western Mumbai to live in the planned city of Navi Mumbai.
There are stil many who wouldn't mind shifting to Navi Mumbai if given a chance from the nearby cities
For such people, who have an interest in Navi Mumbai they should surely read more.
CIDCO the planning authority has put 19 plots in two different areas of Navi Mumbai on auction.
Of the 19 plots, 10 plots are located in Navi Mumbai's Kharghar area while the remaining nine are in New Panvel (E).
The offset price for the 10 Kharghar plots is Rs 1 lakh per square meter. While the same for the none New Panvel plots is Rs 70,000 per square meter.
The size of the plots are between 60.45 square meters to 279.52 square meters.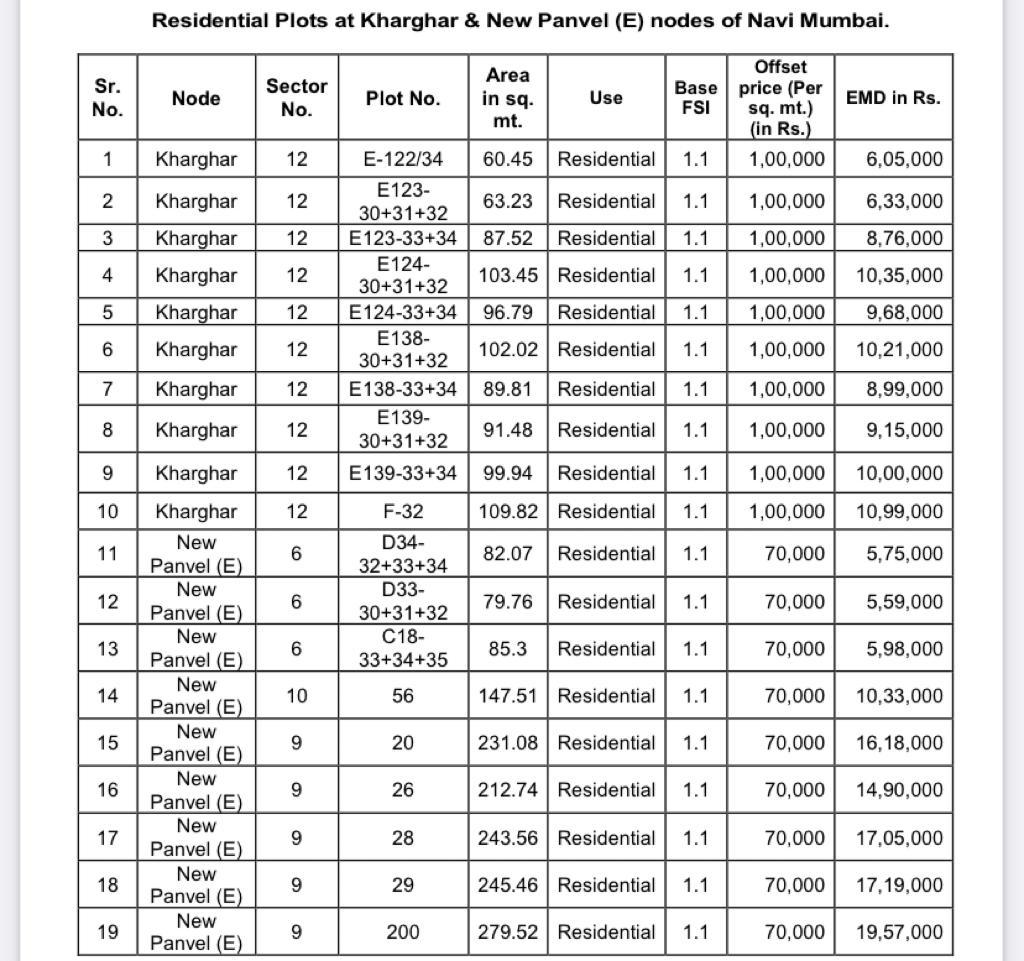 To apply for the e-auction process one has to register and the online registrations are open.
Those interested can submit the application, make payment of EMD
and processing fee etc. on eTender cum eAuction Website till April 6.
The last date for bid sumission is April 7 and the eAuction shall be held on April 8. The results shall be published on April 9.
Who are eligible to make an offer:
a. Any person competent to contract under the Indian Contract Act,1872
b. Company incorporated under the Indian Companies Act, 1956.
c. Partnership Firm registered under Indian Partnership Act 1932.
d. Limited liability partnership (LLP)
e. Public Trust registered under Public Trust Act, 1950 and registered under the
Society Registration Act, 1860.
f. Co-Operative Society registered under the Maharashtra Co-operative Societies
Act, 1960.
g. Bids received from Proposed Company / Public Trust / Co-op. Society/
Partnership firm/LLP not registered will be treated as an individual applicant.
Conduct of eAuction/ Online auction:
As per time schedule, bidder shall participate in e-Auction by logging in the
website. Please note that no time extension will be given after closing time.
During e-Auction every bidder can bid in multiple of Rs. 1000-/ per sq. mt.
only.
eAuction Final Result:
After completion of e-Tender cum e-Auction process, for the particular plots, the highest e-auction bid amount will be compared with highest
closed bid (e-Tender) amount submitted and the highest of the two, will be
declared as the successful bidder.
Refund of EMD:
After completion of e-Auction and approval of Competent Authority, the
EMD amount received from Bidders other than the highest Bidder will be
returned without interest, online into the Bank Account provided by the
bidder at the time of Registration. In case the number of bidders during the
process are less than 3 then, the decision of the Corporation may take
some time. Hence, the EMD refund may take extra time in such situation.
Navi Mumbai: The City of the future:
Navi Mumbai (formerly New Bombay) is situated on the mainland across Mumbai harbour. It is four fifth as big as Greater Mumbai in size and has three large industrial estates and Jawaharlal Nehru Port, which is the most modern Sea Port of India. It was conceived as a counter magnet to the congested Mumbai city. There are 14 townships (also referred to as nodes) in Navi Mumbai strung along mass transport corridors, with their own residential, business and commercial areas. Airoli, Ghansoli, Koparkhairane, Vashi, Nerul, Belapur, Kharghar, Kalamboli and New Panvel are the prominent nodes.
Navi Mumbai is now a planned cityreplete with well planned roads, internal expressways, flyovers, multistructured rail corridors, modern Railway Stations that house commercial complexes, state-of-art IT parks, excellent internet connectivity, super specialty hospitals, educational facilities, etc. with proposed International airport, special economic zone and proposed trans-harbour link facilities. A city that almost Two million people call 'home'.