Demand to waive off property tax amidst COVID 19 crisis gains momentum. Even corporators in BMC demand that the richest municipal corporation waive property tax.
By Varun Singh
There's a rising demand from various corners that property tax be waived amidst the COVID 19 crisis.
Property tax is levied by the Municipal Corporation and during the COVID 19 corporation a many demand that it be waived.
According to Rahul Abhang a resident of Tilak Nagar, almost all demand bills have reached their door while, everything is shut. Sources of income were closed during the lockdown, but the government hasn't given any benefits to common man yet.
He says, "A waiver in property tax will be a welcome change during this crisis. The government should seriously think on it."
Corporator from Mumbai's Nagpada area and MLA from Bhiwandi, Rais Shaikh took to social microblogging website to raise his demand of property tax waiver.
He tweeted, "BMC is the richest corporation with 70(k)+ cr deposits which is access tax collected from Mumbaikars. @CMOMaharashtra should accept our demand for property tax waiver in lockdown period."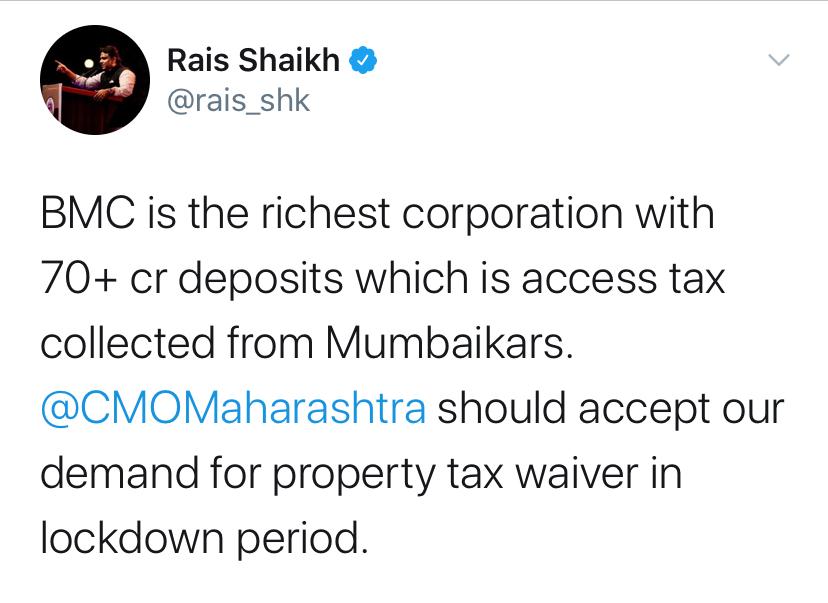 He further said, "We have 79,0000 cr as deposite. This is access collected from Mumbaikars. Fyi there is no financial crunch atleast in BMC. Our contingency funds is 850 cr and we have used 500 cr till date."
While there are many who feel that the property tax needs to be waived, there are some who think, that a discount will do the needful.
"We already are under the burden of heavy light bills, I am not asking government to waive property tax. But I demand that they should at least give some discount," said Janmenjay Shingate, a Ulhasnagar resident.
Many business, were badly affected during the lockdown imposed due to the pandemic Many faced salary cuts too.
A waiver or a discount in property tax might help a larger population in the city.
Also Read: CREDAI asks for reducing home loan interest to 5%