MHADA finally has decided to do something with the long struck redevelopment project in Goregaon. The housing body has floated a tender worth ₹142 crore
By Varun Singh
MHADA's Mumbai Board floated a tender last week for carrying out various work at Patra Chawl Redevlopmemt.
The works include, Survey, planning, designing, building construction, structural restoration, obtaining all relevant permissions, amendments and required completion/occupancy certificate from concerned local authority on lumpsum turnkey basis for construction of balance work of rehab portion at sector R-9 of Siddharth Nagar Patra chawl redevelopment project located in Goregaon West Mumbai.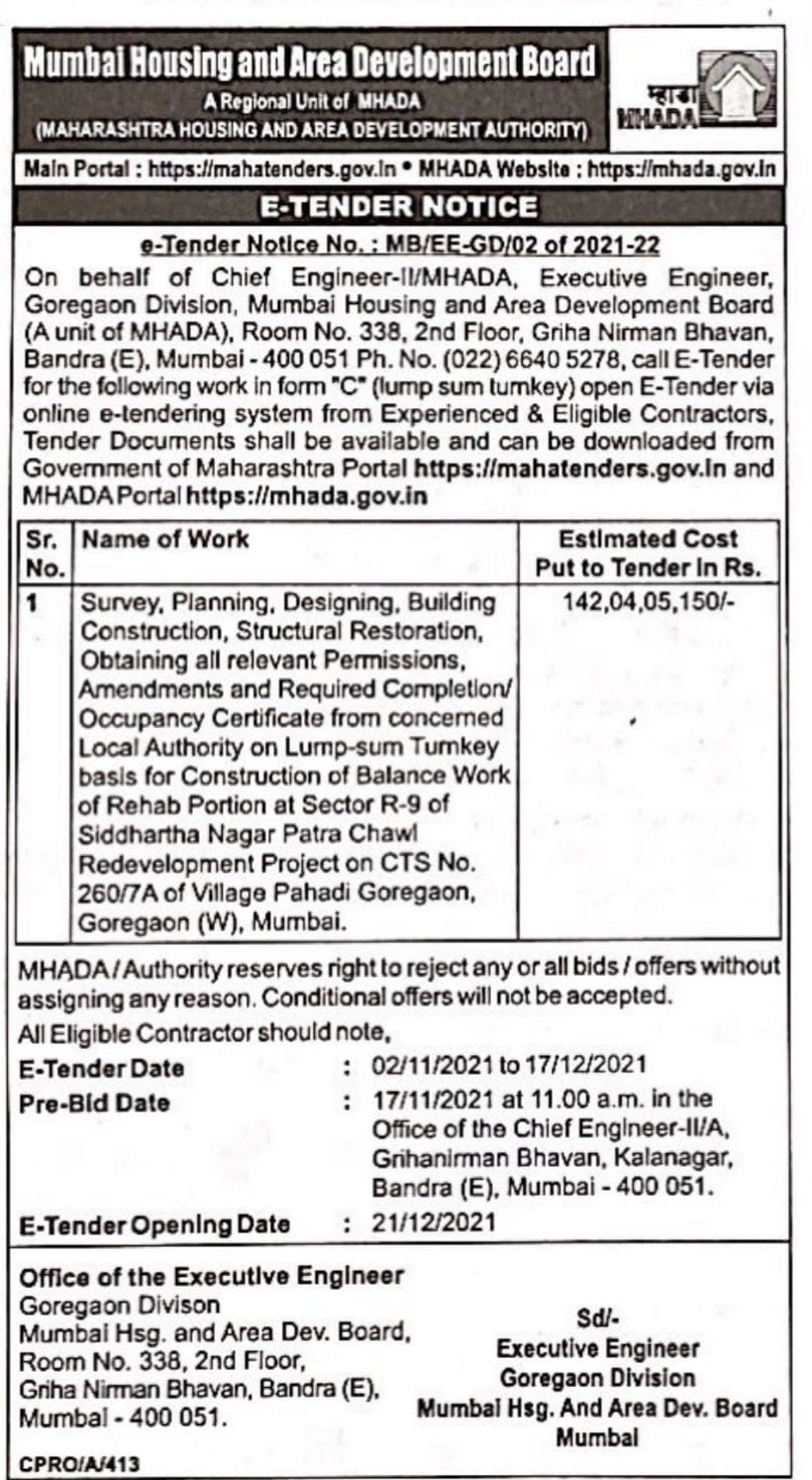 The e-tender dates are from November 2 to December 17 the pre-bid date is November 17 at 11 AM in the office of the chief engineer at MHADA headquarters.
The e-tender will be opened on December 21, 2021.
The tender has been floated by Mumbai Board of MHADA.
The housing minister of state, Jitendra Awhad tweeted, "The redevelopment project of Patra Chawl at Goregaon, which has been stalled for the last several years, is being launched. The ad has come out. Actual work will begin in the next few days and those displaced in Patra Chawl will get their own homes."
Patra Chawl for a long time has been stuck for various reasons.
In the year 2007, the project of redevelopment of Patra Chawl was given to a private developer by MHADA.
The area of the project is close to 47 acre comprising of 675 tenants.
Earlier this year, chief minister of the state Uddhav Thackeray asked MHADA to formulate a strategy and work on a plan to redevelop Patra Chawl and rehabilitate the tenants.
Post which finally MHADA has come out with a ₹142 crore e-tender for the redevelopment and rehabilitation of the project.
Also Read: Shiv Sena MLA Applies For MHADA Home, Finds Mumbai House Rent Unaffordable