Mumbai city's most dangerous buildings list is out
Mumbai's most dangerous building list is out
Mumbai city's most dangerous buildings list is out. The list comprises of 18 buildings found after a pre-monsoon survey by MHADA.
By Varun Singh
Esplanade Mansion once again is at the top of the most dangerous building list of MHADA's Mumbai Building Repair and Reconstruction Board.
This year the list got delayed because of COVID 19 pandemic and the following lockdown.
Also Read: Survey of dilapidated buildings hampered due to Covid
However, finally the list is out, confirmed a senior official from Mumbai Repair and Reconstruction Board.
The list comprises of 18 buildings in Mumbai and at the top of it is Esplanade Mansion. A copy of the list is available with squarefeatindia.com
Of the 18 most dangerous buildings of Mumbai, seven buildings are from the last years list.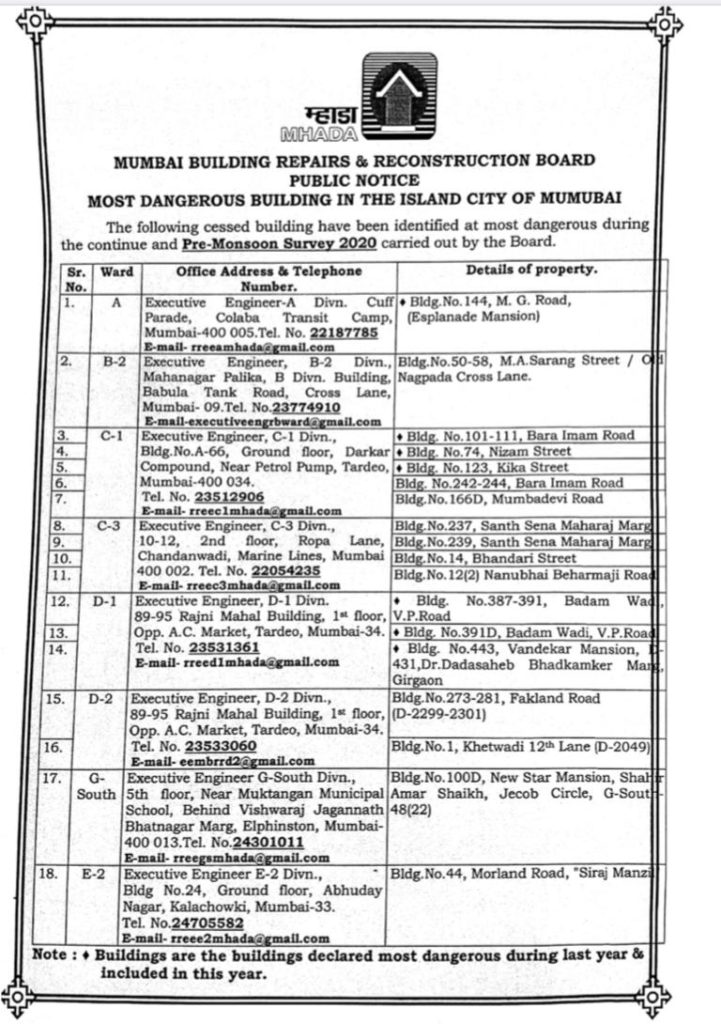 Apart from Esplanade Mansion, the list comprises of building number 50-58 at Nagpada Cross lane.
The other buildings are building number 101-111 and 242-244 at Bara Imam Road, building number 74, Nizam Street, building number 123 Kika street.
Building number 166D at Mumbadevi Road, 237 and 239 at Santh Sena Maharaj Marg, building number 4 at Bhandari Street.
Building number 12(2) at Nanubhai Behramji Road, building number 387-391, 391D at Badam Wadi, VP Road.
In the list is also building number 443 at Girgaon, building number 273-281 at Falkland road.
The list includes a building number 1 at Khetwadi 12th lane, building number 10D at Jacob Circle, and at Morland road building number 44.
The list doesn't stop at these 18 buildings, if MHADA finds any more such dangerous buildings they will add to the list.
The residents of these dilapidated buildings are offered transit accommodation by the Mumbai Repair and Reconstruction board.
Every year buildings collapse in Mumbai and kill scores of people. Most of these buildings that come down like a pack of cards are cessed buildings. They are very old most of them close to a hundred years old.
There are more than 14,283 cessed building in the city of Mumbai. They are majorly located in the south of Mumbai and house lakhs of residents.
Occupants of the dangerous buildings are also asked to inform MHADA, BMC, and Fire Department officials whenever they spot signs like mortar falling or others.