The Tehsildar of Borivali, Mumbai came out with a notice of sale of property and two vehicles of these developers. The property includes five properties located in Malad.
By Varun Singh
The Tehsildar of Borivali, under the Mumbai suburban collector has come out with a notice of sale of two vehicles and five properties belonging to developers.
There are two different sale notices issued by the Tehsildar of Borivali. The first notice is about sale of two vehicles while the properties are five flats located in Malad.
The property is of Ravi Developers and Builders, Vijaykamal Properties Pvt Ltd, Monarch and Khureshi Builders.
The property was confiscated for dues of revenue recovery. certificate. The revenue recovery certificate has been issued under section 40(l) of Real Estate (Regulation &. Development) Act 2016 and Rule 3 of Maharashtra Real Estate (Regulation and Development) (Recovery of interest, Penalty, compensation Fine Payable, forms of complaints and Appeals etc.) Rule 2017 by Hon. Member & Adjudicating officer, Maharashtra, Mumbai.
Collector, Mumbai Suburban, District is authorised to take action under section 176 to 223 of Maharashtra Land Revenue Code, 1966 with respect to immovable and movable properties located within Jurisdiction of Borivali Taluka.
The dues to be recovered are for 29 cases amounting to Rs 23.06 crore.
The two vehicles put on sale are Innova Cysta annd Jeep Compass, the government price for the vehicles are Rs 13.11 lakh and Rs 17.46 lakh respectively.
The sale of the two vehicles will be held on June 4, at 12 noon via public auction at the Thesildar office in Borivali if the dues aren't paid till then.
The property that has been put on sale includes five flats. The total area of the five flats is 570.03 square meters, and the government valuation of the flats is Rs 9.41 crore. All the five apartments are located in Malad.
The property shall be sold by the Thesildar on June 23 at 11 am via public auction at his office in Borivali if the amount of dues aren't paid before the date of sale.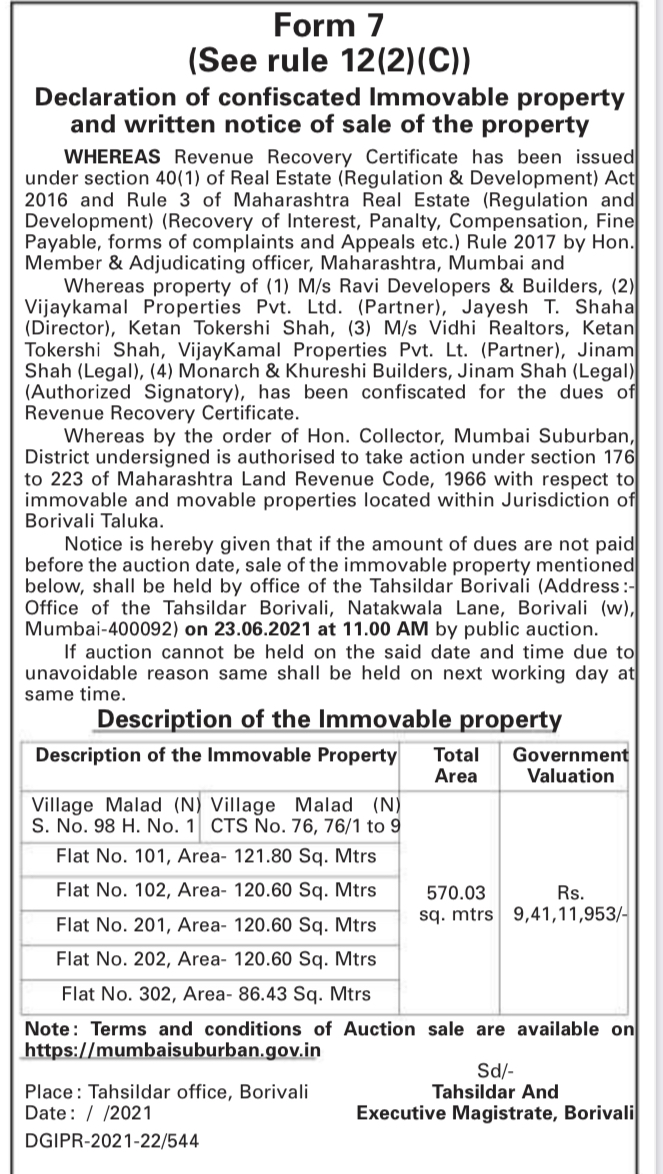 The details of both the sale notices can be seen here.
Section 169 of Maharashta Land Revenue Code, 1966 provides as under.
l) The arrears of land revenue due on account of land shall be a paramount charge on the land and on every part thereof and shall have precedence over any other debt, demand or claim whatsoever, whether in respect of mortgage, judgement-decree, execution or attachment, or otherwise howsoever, against any land or the holder thereof. (2) The claim of tle State Govemment to any monies other than arrears of land revenue, but recoverable as a revenue demand under the provisions of this Chapter, shall have priority over all unsecured claims against any land or holder thereof.