The year is ending today, and here's a look back at the most expensive realty deals that took place in India. These deals made headlines because of the sheer amount that was spent to buy the apartments or bungalows.
By Varun Singh
When an year ends we look back at achievements, downfalls and many other things that makes one remember the year gone by.
In real estate, what matter the most is sale of homes and Mumbai, Delhi, Hyderabad and other prominent cities of the country witnessed many expensive deals.
Here we are listing the top 10 most expensive deals of the year 2021. These are all above Rs 100 crore and one amongst them is worth Rs 1001 crore too.
Here it is: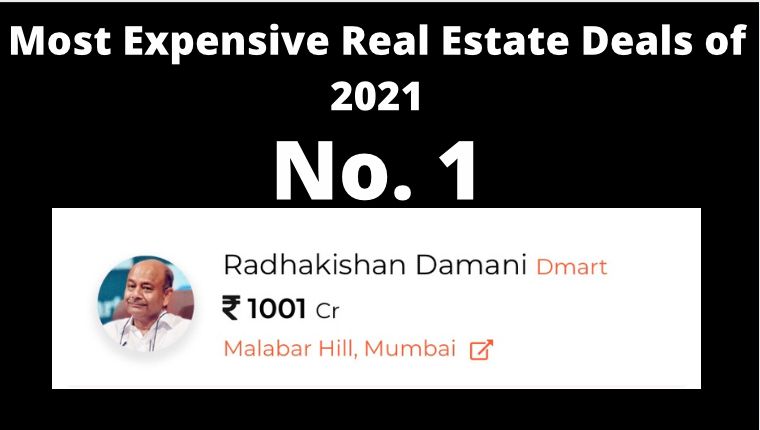 No 1: D Mart Owner Radhakishna Damani along with Gopikishan Damani paid Rs 1001 crore to buy a two storey property in Malabar Hill. The deal was registered on March 31. The property measures a whooping 5752.22 square meters, which translates into 61,916 square feet.
Read More: D Mart Founder Buys Malabar Hill Property For Rs 1000 Crore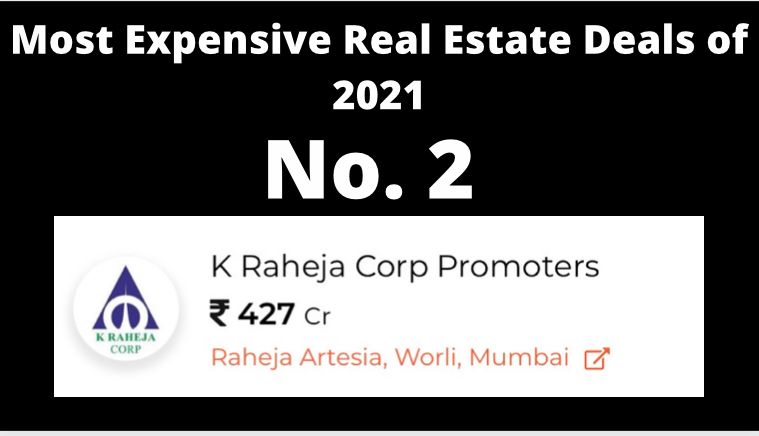 No 2: Real estate tycoon Raheja family, bought three duplexes spread over five floors comprising of 18 apartments in Worli's Artesia building for Rs 427.81 crore. The total area when calculated comes to 6202 square meters. This translates into 66811 square feet. This deal was registered in April 2021.
Read More: 3 Duplexes Comprising Of 18 Flats, 42 Parking, Sold In Worli For Rs 427 Crore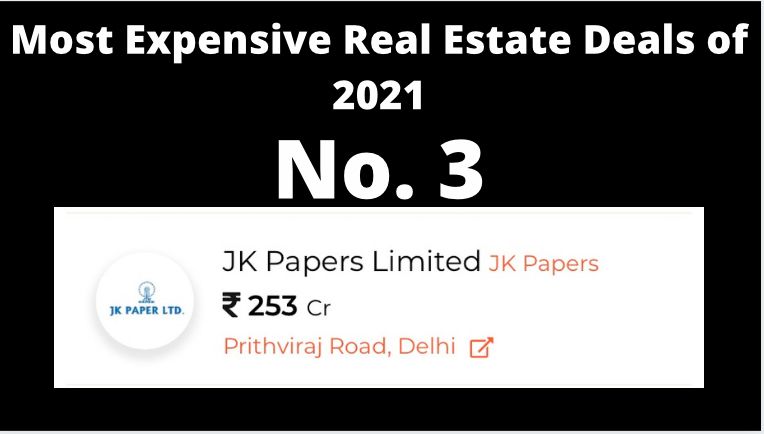 No 3: JK Paper Ltd, bought a 3,731-square yard bungalow on Prithviraj Road in Lutyens Bungalow Zone for Rs 253 crore in one of the biggest transactions in Delhi.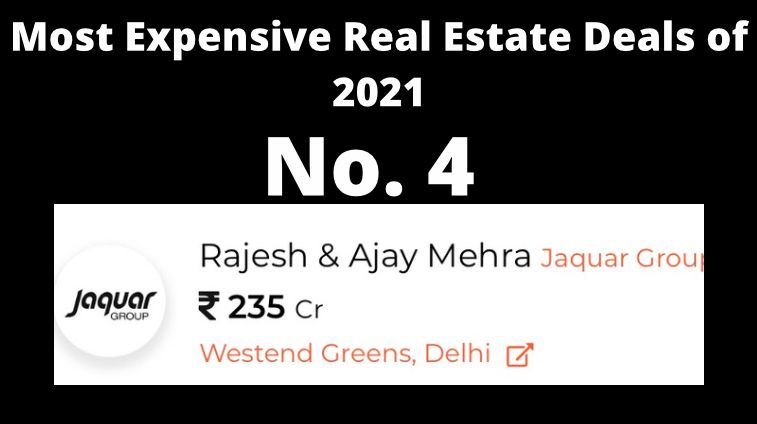 No 4: Sanitary ware company Jaquar Group purchased three farmhouses in Delhi's Westend Greens for around Rs 235 crore. The farmhouses bought by the company are spread over 2.5 acres each.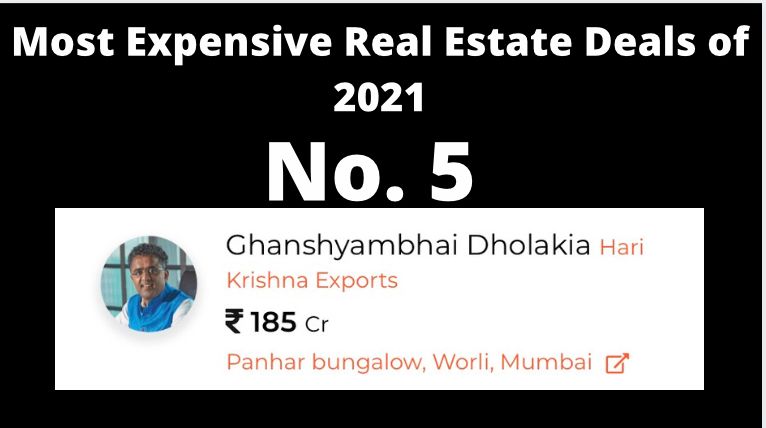 No 5: Panhar bungalow in Worli was sold to a Surat-based diamond firm headed by Ghanshyambhai Dhanjibhai Dholakia for Rs 185 crore. Panhar bungalow' consists of a basement and ground-plus-six storeyed structure located opposite Worli sea face, one of the sought-after locations in Mumbai. It occupies an area admeasuring 19,886 square feet.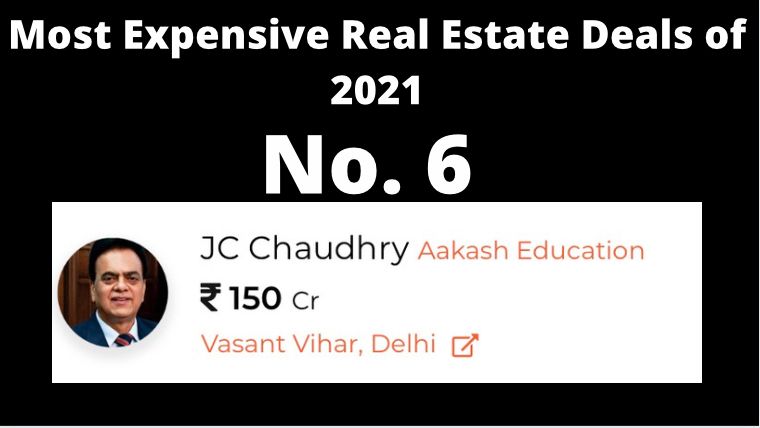 No 6: Aakash Educational Services Ltd founder J C Chaudhry has bought a 2,000 square-yard property in South Delhi's Vasant Vihar for around Rs 150 crore.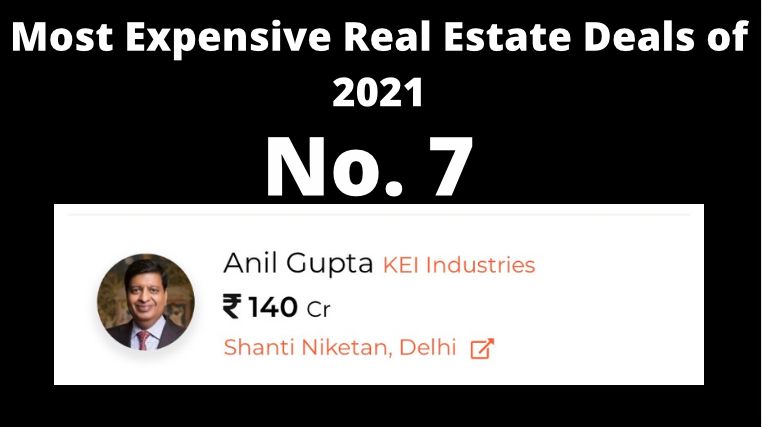 No 7: Anil Gupta, chairman and managing director of KEI Industries, manufactures of cable and wire, bought a 2000 square yard property at Delhi's Shanti Niketan for Rs 140 crore.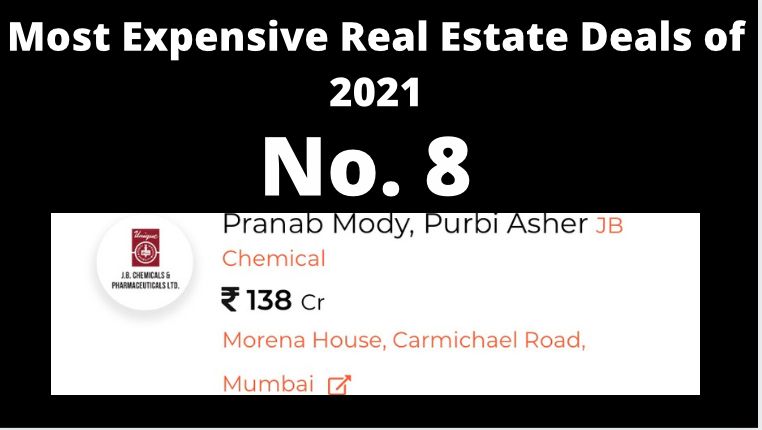 No 8: Pranabh Mody and Purbi Asher, of J B Chemicals & Pharmaceuticals, bought two sea-view luxury apartments in JSW Realty's under-construction project Morena House in South Mumbai's Carmichael Road for Rs 138 crore. Mody, bought the apartment spread over 5,341 sq ft on the 5th floor for Rs 70 crore, his sister Asher bought the 5,284-sq-ft apartment on the 4th floor for Rs 68 crore.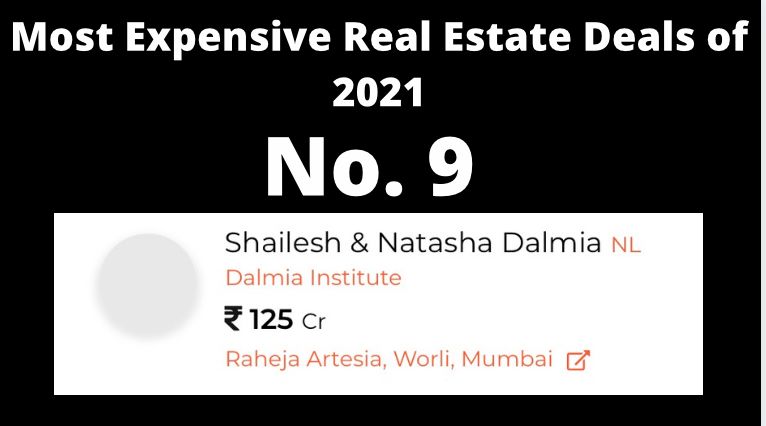 No 9: Shailesh Dalmia and his wife Natasha bought four sea-view luxury apartments in under-construction high rise in Artesia building, Worli for Rs 125 crore. All four apartments are spread over nearly 11,000 sq ft on the 33rd floor.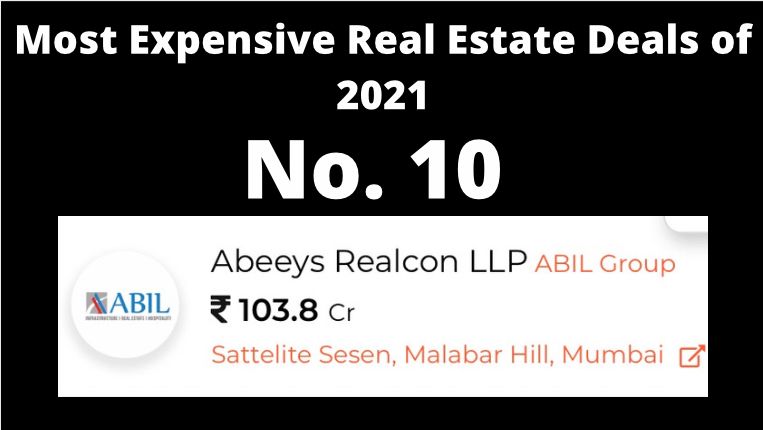 No 10: Abeey's Realcon LLP of Avinash Bhosale invested Rs 103.8 crore to buy a duplex in the building Sesen, Napeansea Road, the duplex is spread on the 53rd and 54th floor of the building. The total carpet area of the duplex is 7118 square feet and the terrace measures 3503 square feet.
Read More: Avinash Bhosale Buys Rs 103 Crore Duplex In Mumbai
There are other many deal that took place in several cities of the country. However, we restricted ourselves to the top 10 real estate deals, where the consideration amount was above Rs 100 crore.
Most of the deals were reported by documents provided by Zapkey.com, to SquareFeatIndia.com
Also Read: Bhushan Kumar Of T-Series Paid Rs 167 Crore For Juhu Bungalow