Here's some bad news for builders dealing in redevelopment projects. They might end up losing their FSI meant for the sale building.
By Varun Singh
This is a big decision and if implemented will hurt a lot of builders across the city of Mumbai.
But more than builders it will serve the interest of the tenants of redevelopment projects.
The housing minister of state Jitendra Awhad took to Twitter to explain a new proposal that the government is considering to take up soon.
The proposal is that if a builder fails to deliver the rehabilitation building meant for tenants on time then the builder will end up losing FSI that he was to use for the sale component.
In any redevelopment project, there are two aspects, firstly the rehab component and secondly the sale component.
Rehab component means where builders constructs a building for the tenants or slum dwellers on the land that was earlier occupied by them.
Builders as a compensation for constructing the rehab building for tenants gets FSI.
This FSI enables the builder to construct sale building via which he generates the cost of constructing the rehab building and also his own profit.
In many cases where builders cannot use the entire FSI it gets converted into TDR and is sold.
Thus FSI becomes a major component in the entire redevelopment of building process in the city od Mumbai.
If the proposal mooted by the housing minister makes it way and becomes a law builders defaulting in construction of rehab component on time they will end up losing their priced possession of FSI.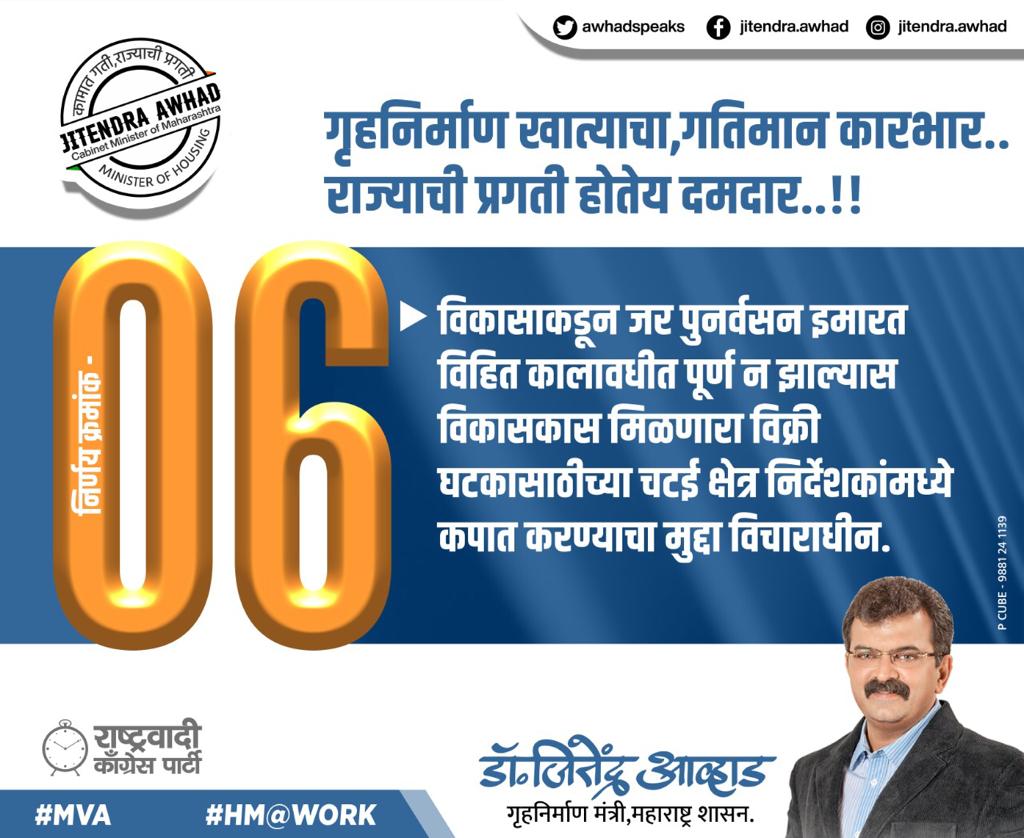 This will directly impact the profits and spoil the entire redevelopment game for builders.
It is a good move as they builder who will now consider a redevelopment project will see to it that he constructs the rehab component on time.
Real estate industry in Mumbai has seen several projects that are stuck, majority of them are redevelopment projects.
Tenants of these buildings suffer and many a times the builder stops even rent.
However, if this proposal sees the light of the day, then most likely the woos of lakhs of families dependent on redevelopment would come to an end.
Also Read: Nawab Malik's son Buys Rs 9.95 Crore Flat in Bandra says flooding in Kurla reason for Shift