Migrant workers to benefit from the second phase of 'atmanirbharta' package announced by FM on Thursday. Real Estate sector especially affordable housing got a major boost.
By Varun Singh
The second tranche of the government's Rs 20 lakh crore economic package was unleashed for the benefit of migrant workers, urban poor and the real estate sector too.
One of the biggest move announced the FM Nirmal Sitharaman was aspect about converting government funded housing in major cities to affordable rental housing. These homes will be rented to migrants workers and urban poor.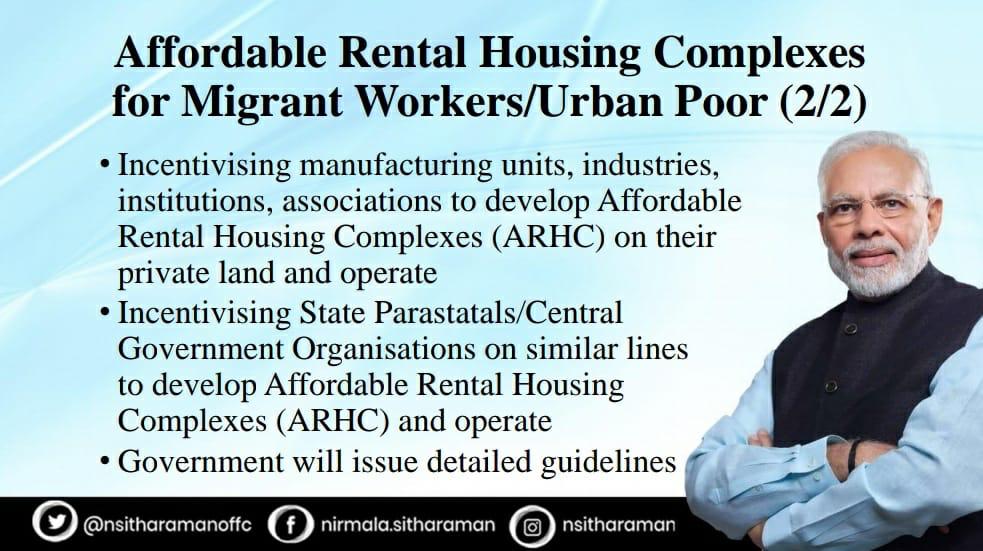 In this scheme the government will launch, under Prime Minister Awaas Yojana (PMAY) a rental housing scheme which aims to provide affordable rental homes to urban poor and migrant labor in urban areas.
The scheme includes incentivizing manufacturing units/ factories to build such rental homes on their private land/ within their compounds. The scheme includes usage of empty government land to build more rental housing stock through the PPP mode, with a concessionaire arrangement similar to toll being charged by organizations building highways.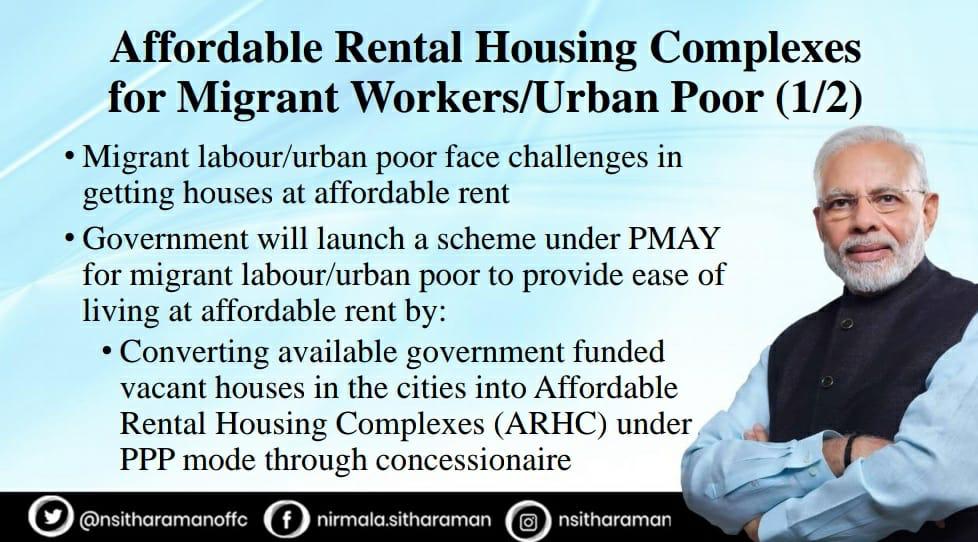 Dr Niranjan Hiranandani, President NAREDCO said, "Positive moves, from the migrant labor as also urban poor perspective; some business opportunities under Public Private Partnership (PPP) mode as also enhanced demand for construction material with the 2.5 lakh homes under CLSS, but real estate as an industry, awaits its turn to get stimulus package measures that will create a positive impact."
In another move, the government has announced the one-year extension of the CLSS scheme up to March 2021. This extension is expected to create demand for further 2.5 lakh affordable homes, which the developers feel will improve demand.
"This will help push demand for affordable housing. As per ANAROCK research, there are currently 15.62 lakh under construction units across the top 7 cities, of which nearly 39% are in the affordable segment priced <Rs 40 lakh budget," said Anuj Puri, Chairman, Anaorck Property Consultants.
Some say the government expectation is ambitious. "The CLSS scheme was rolled out to benefit the affordable housing industry and prospective homebuyers with income between 6 to 18 lakhs. While the government's expectation of 2.5 lakh families enrolling for the scheme within a year, seems slightly ambitious, the extension by a year was much required,"said, Kaushal Agarwal, Chairman, The Guardians Real Estate Advisory
CREDAI spokesperson says the extension of CLSS upto March 2021 and infusion of Rs 70, 000 crores is an action oriented reform for the revival  of affordable housing segment. 
However, the developers still want the stimulus packages to encompass reforms related to infusion of liquidity, de-cartelization of cement prices,  restoration of supply chain to proceed with construction on the project sites. The need of the hour is to  uplift the demand by providing more benefits to homebuyers by increasing the tax deduction  limits for interest on home loans, thus help the realty sector bounce back.
Also Read: FM Throws Lifelines to Real Estate